Warranty
RIKON Power Tools Inc. (Seller) warrants to only the original retail consumer/ purchaser of our products that each product be free from defects in materials and workmanship for a period of five (5) years from the date the product was purchased at retail. This warranty may not be transferred.
This warranty does not apply to defects due directly or indirectly to misuse, abuse, negligence, accidents, repairs, alterations, lack of maintenance or normal wear and tear. Under no circumstances will Seller be liable for incidental or consequential damages resulting from defective products. All other warranties, expressed or implied, whether of merchantability, fitness for purpose, or otherwise are expressly disclaimed by Seller. This five-year warranty does not cover products used for commercial, industrial or educational purposes. The warranty term for these claims will be limited to a two-year period.
This limited warranty does not apply to accessory items such as blades, drill bits, sanding discs, grinding wheels, guide bearings or belts and other related items.
Seller shall in no event be liable for death, injuries to persons or property, or for incidental, contingent, special, or consequential damages arising from the use of our products.
To take advantage of this warranty proof of purchase documentation, which includes date of purchase and an explanation of the complaint, must be provided.
The Seller reserves the right to effect at any time, without prior notice, those alterations to parts, fittings, and accessory equipment which they may deem necessary for any reason whatsoever.
To ensure you get the best service possible, please register your product online.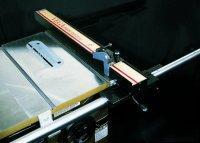 Table Saw Fence
COMPARE PERFORMANCE and PRICE WITH ANY FENCE!
Being able to cut materials safely and precisely on your table saw is essential for fast and accurate Woodworking. Unless saw fences are well designed they make cutting a chore instead of pleasure, resulting in poor quality and inaccu- rate cuts. Most Saw Fence Systems….
Do not lock parallel to saw blade.

Do not have accurate measuring scales.

Have Fence Bars that are too short.

Do not have adequate width ripping capacity.

Require frequent re-alignment.

Lack safety devices.

Are unable to be finely adjusted.
The Vega Saw Fence Systems solve all of these problems (and more!) to assure Accurate and reliable cuts combined with smooth, precise motion.
Product Description
MODEL PRO 26, PRO 40, and PRO 50
The Professional Model features the ruggedness and durability for Commercial production requirement, yet is extremely refined for the serious woodworkers needs and wants. With larger components and greater rigidity, the Professional Model is designed for 10 - 12 inch Saws cutting heavier materials and commercial use. The Vega retrofit Saw Fence System is available with 26, 40 or 50 inch rip capacity to the right of the blade and 10″ to the left, with a standard fence length of 42 inch on models PRO 26, PRO 40, and PRO 50. For saw tables between 34 and 42 inches deep, the PRO 26L, PRO 40L, AND PRO 50L ARE available featuring a 50 inch fence bar.
UTILITY MODEL 26 or 50
Designed for contractors saws, smaller cabinet saws, and 10 inch saws that don't receive extremely heavy use, the Utility Model Fence is simply a small version of the very successful Professional Model. With all the great features of the Pro Model (fast installation, super precision, micro adjustments and more), the Util- ity Fence will upgrade your saw to a very precise cutting machine at a very rea- sonable price.
The Utility Model Vega Saw Fence System is available with 26 or 50 inch rip capacity to the right of the blade and 8 inch to the left.
FENCE ACCESSORIES
Vega manufactures a number of great accessories for the Professional and Util- ity Model fences making them more convenient, productive and safer to use. All accessories are available for both models except the Leg Set which is not necessary for the Utility 26.
You compare the features!
EASY TO INSTALL
No other Fence can be installed on your saw as easily as The Vega Saw Fence, according to American Woodworker Magazine (Oct.92) "I found the Vega Model 50 the easiest to install of all the fences."
Vega Saw Fences are designed to use existing bolt holes (no drilling required) of Delta Unisaws and Contractors Saws, Powermatic Model 66, most Sears 10 inch saws and most other saws having fence rail mounting holes 8 -9 inch on either side of the blade. Other saws may require drilling 2 or 4 holes. Little accuracy is needed as the Fence Mounting System allows full adjustment. (Installation may be as little as 15 minutes.) Features which help make this Fence so easy to install include:
Pre-drilled and tapped holes to fit most saws.

Slotted Front Brackets to allow vertical and horizontal adjustments.

Jacking Plates to assist in leveling the Fence Rails

Easy to follow instructions.
ALUMINUM FENCE HEAD
Extruded from 6005 - T6 high strength aluminum, the Vega fence head closely contours the polished chrome front rail providing excellent fit and nearly eliminating side play in the fence during adjustment. In ad- dition, the combination of the polished chrome tube and the aluminum head produces an almost ideal bearing surface for low friction and long life. The fence head simply lifts off the front rail for quick fence removal and installation.
EXCLUSIVE MICRO ADJUSTMENTS!
The Vega Saw Fences are the only Fences with true Micro Adjustment capability. If you require precise adjustment from your tablesaw, this is a necessary feature. The Micro Adjustment allows you to move the Fence very precisely in either direction, via a threaded rod thumb nut combination. For the final adjustment of only a few thousandths of an inch, Vega provides a threaded mechanism for final, precise setting.
To operate the Micro Adjust:
Press down on the small knob at the right end of the Fence Head to lock the Micro Adjust Cam.

Release the Main Cam.

Rotate the Thumb Nut under the Fence head to move the Fence very precisely… (one full rotation of the nut is 1/16

inch

)

After adjusting is complete, lock the Main Cam.
NO MORE BUMPING…
… and hoping for the best! With other saw fences precise adjustments is achieved using this technique.
MADE OF HIGH QUALITY MATERIALS
Vega has carefully chosen only the highest quality materials to construct their Saw Fences. Three unique precision aluminum extrusions, the highest grade of plating quality tubing and super tough and attractive epoxy coating, combined with meticulous care in fabrication result in a truly superior product.
A. Front Guide Rails
The Front Fence Rail is a precision rolled, plating quality tube with a very thick wall for extreme stiffness. The bar is tapped for attachment of the front mounting brackets, table extension plates, and the Vega leg kit (optional). It is chrome plated and plated and polished to provide an extremely low friction glide path for smooth and easy adjustment of the fence.
B. Rear Guide Rails
The Rear Fence Rail is a 1-1/2 inch square tube predrilled for mounting to the exist- ing holes (in most saws) and tapped to hold the extension table support plates and Vega leg kit (optional). The Rail is epoxy coated for low friction, high durability, and an attractive finish.
C. The Fence Bar
The Vega Fence Bars are aircraft quality aluminum alloy extrusions shaped for extreme stiffness while being relatively lightweight for easy handling. They are very accurate bars with side flatness held to extremely close tolerances, resulting in a very uniform surface to guide material through the saw blade for precision cuts. The Fence Bars have a Black Anodized finish which provides extreme surface hardness and low friction.
D. Mounting Brackets
These extruded aluminum mounts help to make the Vega Saw Fence the easiest and fastest aftermarket saw fence to install. They provide simple and accurate vertical and horizontal adjustment for the front guide rail and simply bolt to the saw table through existing holes (in most saws).
E. Jacking Plates
To further assist in easy and accurate installation, jacking plates (4) are provided at the mounting points of the front and rear rail to make leveling and setting fence clearance easy.
F. Rear Hold Down Bracket
The rear hold down bracket prevents the rear of the fence from raising if the fence issued in conjunction with stock feed systems. It is adjusted to just clear the lower side of the rear guide rail.
Support Plates For Extension Tables
(All Models except Pro 26 and Utility 26) To extend the work surface of your saw, Vega provides four Table Support Plates. These Plates are bolted to the underside of the Front and Rear Fence Rails to support an extension table which can easily construct. In addition, the extension table will strengthen the Saw Fence System.
Vega Fence Models
Model

Rip Capacity Right

Rip Capacity Left

Fence Bar Length

Front Rail Dia.

Vega Utility 26

26

8

36

inch

1-3/4 inch

Vega Utility 50

50

8

36

inch

1-3/4 inch

Vega Pro 40

40

10

42

inch

2 inch

Vega Pro 50

50

10

42

inch

2 inch

Vega Pro 40L

40

10

50

inch

2 inch

Vega Pro 50L

50

10

50

inch

2 inch
Models
72024
Utility Saw Fence 26 inch Rip Capacity 36 inch Fence Bar Still MADE in the USA
72025
Utility Saw Fence 50 inch Rip Capacity 36 inch Fence Bar Still MADE in the USA
72578
Pro 40 inch Rip Capacity 42 inch Fence Bar Still MADE in the USA
72580
Pro 50 inch Rip Capacity 42 inch Fence Bar Still MADE in the USA