Sjobergs Nordic Plus Workbench
Based upon the latest Sjoberg design, the Nordic Plus range gives you the size you need at a price you can afford. It comes in three sizes, 1450. The top is hard Nordic birch and the bench is built for a long life with normal use. The Nordic Plus workbench can be used both right and left handed

Bench dogs 19 mm (3/4 inch) x 4 as standard. Plastic coating to protect edge tools.

Double row of dogs holes running from each vise location.

Holdfast ST03 can be located in any of the dog holes on work top or in the holes on the front legs of the trestle.

The sturdy trestles are made from Nordic pine. All three benches can also be fitted with the cupboard and drawers kit 0042.

Powerful steel spindles and vises to with- up to 1300 kp force.

You can use the vise in four positions.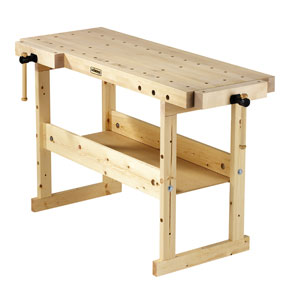 The top is supplied with double row holes for the round bench dogs to provide a more flexible clamping.

Bench dogs are included
Specifications

Item

33448

Materials

Lacquered birch

Dimensions

Length of work top

52-3/4 inch 1340 mm

Total length

57-7/8 inch 1470 mm

Width of worktop

19-5/8 inch 500 mm

Total width

24-3/4 inch 630 mm

Vise capacity

4-1/2 inch 115 mm

Working height

33-7/8 inch 860 mm

Weight

31.0 kg (68 lb 5 oz)

EAN

7316703448142

Packaging size

1550x560x87 mm
Models and Accessories
33448

Nordic Plus Workbench 1450

33374

Storage Cab. for Nordic Plus 1450

33637

Holdfast ST-03 3/4 inch - pair EAN: 7316703637034 Made of Global Components

33290

4x3/4 inch Bench dogs set of 4

33617

Universal Anvil UA-13 Made of Global Components

33316

Accessory Kit for Duo, Hobby Plus,Nordic, Jr workbenches contents holdfast, universal anvil, pr of jaw cushions and aluminum jaw protectors
NO LONGER AVAILABLE FROM SOUTHERN TOOL
Mfg. item #: 33448
SJO33448
FREE FREIGHT, FREE Residential, Free Liftgate!300
NO LONGER AVAILABLE FROM SOUTHERN TOOL
Mfg. item #: 33374
SJO33374
FREE FREIGHT, FREE Residential, Free Liftgate!300
NO LONGER AVAILABLE FROM SOUTHERN TOOL
Mfg. item #: 33637
SJO33637
FREE FREIGHT, FREE Residential, Free Liftgate!300
NO LONGER AVAILABLE FROM SOUTHERN TOOL
Mfg. item #: 33290
SJO33290
FREE FREIGHT, FREE Residential, Free Liftgate!300
NO LONGER AVAILABLE FROM SOUTHERN TOOL
Mfg. item #: 33617
SJO33617
FREE FREIGHT, FREE Residential, Free Liftgate!300
NO LONGER AVAILABLE FROM SOUTHERN TOOL

Mfg. item #: 33316

SJO33316

FREE FREIGHT, FREE Residential, Free Liftgate!300

Copyright © 2022 Smith-Hamilton, Inc