NOVA VIKING 16 inch DVR BENCHTOP/FLOOR MODEL DRILL PRESS

NOVAs latest machine is a 16 inch DVR Benchtop Drill Press. The NOVA Viking is a 1HP,
150-3,000 RPM (programmable to 5,000) electronic variable speed machine, with a large easy to read display and a variety of intelligent features such as Auto Start feature for one handed drilling and Electronic Depth Stop. The built in LED lights, laser location makes it easy to see clearly and locate your center. The table can be tilted and rotated.

Warranty:
2 Year Full Replacement motor and controller
5 Year Full Replacement on all other parts
AVAILABLE IN BENCHTOP (83700) AND FLOOR MODEL (83706) OPTIONS.
DIRECT DRIVE POWER AND CONSISTENT TORQUE
1HP DVR Smart Digital Motor powered by STRIATECH delivers correct speed and power to maintain optimal torque direct to the drill head across the entire speed range. No belts or pulleys to cause vibration or power loss. A belt and pulley system absorb typically 20% of the motor power before it even gets to the tool. The DVR motor delivers constant torque with all materials.
SMART DIGITAL MOTOR
BUILT IN LASER AND LIGHT
Quickly locate center position with the cross haired laser.

Two powerful LED lights to keep your project well lit.(This feature not available in all markets.)
CAST IRON WOODWORKING TABLE
Solid Cast Iron for maximum stability.

Maximum flexibility and options.

Woodworking design to provide maximum clamping and accessory options.

12 2/3 inch x 12 2/3 inch (320mm x 320mm)

Tilting and Rotating
ELECTRONIC VARIABLE SPEED
150 - 3,000 RPM (programmable to 5,000 RPM); Versatile for a variety of projects –

Large deep hole drilling, mortising, high speed sanding.
FORWARD AND REVERSE
ELECTRONIC DEPTH STOP
DISPLAY
Large, easy to read display with choice of metric or imperial (fractions or decimal).

Easy to switch between modes
SPLIT MOTOR (EXPOSED)
SELF START
BRAKING
SPECIFICATIONS
Variable Speed: 150 - 3,000 RPM (programmable to 5,000 RPM)
Swing: 16 inch
Stroke: 4.5 inch
Spindle to Table: 12 2/3 inch (320mm)
Spindle to base: 22 2/3 inch (575mm)
Drill Chuck: 5/8 inch (1-16mm)
Spindle Taper: 2MT

Quill:
4.5 inch of quill travel in just 1 1/4 revolutions of the handle, which allows for far greater accuracy.

Motor:
DVR High Torque 1HP motor, Electronic Variable Speed.
1HP Direct Drive; Single Phase Input Supply.110V-220V, MAX 10A-15A, 50Hz/60HzWeight: 154lbs/68.85kgs
NOVA VOYAGER DVR 18 inch VARIABLE SPEED DRILL PRESS (SKU 58000)

The world's first smart drill press combines the best features of drill presses with state-of-the-art technology to make your project work more efficient, fun, and safer. The NOVA Voyager DVR (Digital Variable Reluctance) Drill Press is the most versatile drill press on the market, easily able to handle wood, metal, plastics, and glass. Features Adaptive Control™ software that determines and creates optimum conditions for your specific project.
Unique DVR (Digital Variable Reluctance) technology
The direct-drive motor powered by STRIATECH is incredibly smooth with no pulleys or belts to vibrate.
Intelligent Digital Control
Easy to operate, the NOVA DVR range of machines are the only SMART machines on the market to automatically adjust the speed for the application.
High Torque Power
Instant power when you need it. With its 1.75HP(110v)/2HP(220v – plug change required) high torque motor, exceptional structural strength, and smart design, the NOVA Voyager has the power and capacity to handle a wide variety of projects with ease.
Faster, more efficient drilling
With no belts to cause vibration, a computer that automatically adjusts performance, and solid cast iron construction, the Voyager is one smooth and quiet operator. Drill faster and more efficiently.
Plug n' Play
Easy to use, with a push-button electronic variable speed with forward and reverse.
Power saving
Smart computer-controlled motor only draws as much power as it needs for the project being worked on. The Striatech DVR motor can save up to 50% energy and emissions over conventional motors.
Features:
Low Maintenance

Intelligent Speed Selection to get the correct speed for the application

Variable Speed 50 - 3,000 RPM (option in settings to increase to 5,500 RPM)

No belts. Quiet and smooth operation.

Slow Start Pilot Hole Function

Tapping Assist Function

Digital speed readout

Electronic Braking

Load Readout

Self Starting Function

Digital Quill Depth Readout

Precise speed adjustment with knob

Forward/Reverse Functionality

6 inch of quill travel in 2 revolutions of the handle

Sensors for superior safety, use and maintenance

Adjustable mechanical stop coupled with digital readout for accurate and repeatable actions
Specifications:
Spindle:
Distance to table: 23 1/8 inch / 587mm (Max.)

Distance to Base: 40.94 inch / 1040mm

Travel: 6 inch

Taper: Morse Taper #2 (MT-2)
Table:
Size (wood working)(L x W): 16 1/2 inch x 16.1/2 inch (419mm x 419mm)

Table Tilt (Deg.): - 45 to + 45 deg

Table Rotation (Deg.): 360 deg

Column Diameter: 3.62 inch / 92mm

Base Size (L x W): 22 1/4 inch x 17 1/2 inch (565mm x 445mm)

Chuck Size: 5/8" (3-16mm)

Striatech DVR High Torque Motor
Warranty:
2 Year Full Replacement motor and controller
5 Year Full Replacement on all other parts
First in a line of exciting accessories for the NOVA Voyager, this fence accessory will allow you to drill consistent holes along the same plane every time, as well as provide support for larger pieces of wood.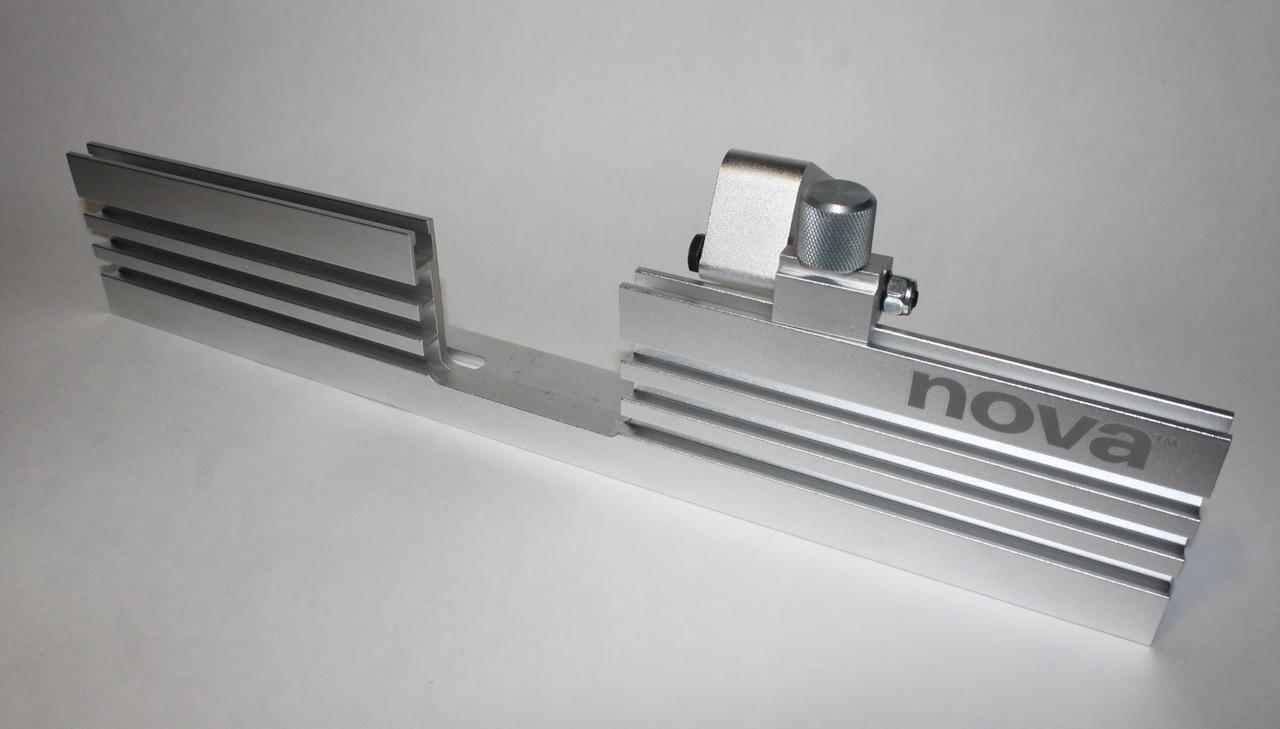 Features Include:
Heavy duty aluminium extrusion insures stability and flatness along the length of the fence

Cut away center section allows the user to drill with smaller bits very close to the fence so that auxiliary blocks are not needed as frequently.

T-slots on the face and top to allow for the addition of hold downs and other devices to support the work piece.

Flip stop for consistent positioning in repetitive drilling situations.

Ratchet style locking handles to permit quick positioning and solid locking of the fence.

Fits most Drill Presses (Check your specific machine specs to be sure)

Presented in a full color box
Standard Equipment:
Extruded Aluminum Fence

Flip Stop

Handle and Fastenings

Instructions

Unit lenght: 15.5 inch / 393.7mm

Unit Height: 3 inch / 76.2mm

Unit Depth: 2 inch / 50.8mm

Packed Weight: 2lbs / 907gms

1 complete unit to a box

Boxed Dimensions 16 x 3 x 3.5 inch

2 Year Full Replacement Warranty on all parts