Van Mark Products proudly introduces Industrial Slitter Combo, the newest addition to a long and successful lineup of portable slitters. Designed to handle most sheet metals used in commercial roofing and siding, this tool allows for easy single user operation from start to finish. From the built-in feed table to the multiple roller exit table, the user friendly features will save you time and money not only on the job-site, but in your shop as well.
Note: accessories may be incompatible with older Van-Mark products.
The perfect portable work station for managing all your metal components fabricated from sheet stock down to bendable blanks.
Cuts commercial metals on the job.

Leaves a factory-quality edge.

Does not harm factory finishes.

Fully adjustable knives/booster blocks.

Double-edge knives can be flipped over to use other edge.

Unit comes complete with multiple roller exit table.

115 volt, high torque motor package.

UniStand™ universal brake, slitter and saw table stand.

2 sets of slitting knives (used also for rib forming).

Heavy-duty slitter base.
SETUP FOR SLITTING

Loosen set screws and slide upper knife into cutting position by aligning the right edge of knife with desired mark on the rule scale; tighten set screw securely. Now slide the lower knife (carefully) against the upper knife and tighten set screw securely. Repeat this setup with the other knives if more than one cut is to be made. If not, simply place remaining knives at least 3 inches apart to avoid cutting or marking of material.

Place one side of material against the roller of the stationary guide. Bring the adjustable guide snugly against the other side of the material and tighten the two hand knobs securely.

Push material into knives and rotate handle counter-clockwise, material will now be pulled through the slitter by the knives as it is slit.

For maximum performance during slitting operation, keep material flat and on the same level as the slitter feed shelf, on both the input and output sides.

When cutting close to one edge of wider material it may be necessary to lightly hold the material down on the shelf surface to prevent the material from buckling upward and therefore not running true in the roller guides.

With unusually harder or thicker materials, or if material twisting occurs, a better cut may sometimes be obtained by horizontally separating the upper and lower knives by a few thousandths of an inch.

RIB FORMING/STIFFENING -- Material may be rib formed, stiffened and/or made more decorative, by setting the knives about 1/8" apart.

MAINTENANCE AND LUBRICATION

Maintain a light film of protective oil on shafts, rollers, set screws and gears and when not in use, on knives. Clean knives prior to use.

In cleaning knives, rotating the shafts, while pressing a dry cloth against the knives will usually be sufficient. For stubborn dirt, sprinkle kitchen cleanser on the cloth, or use steel wool, fine emery cloth, etc.

Knives can be re sharpened easily on a surface grinder. The sides should be ground just enough to bring back the sharp edge. Do not grind on the O.D. face of knife.

Assure that the stationary guide always remains perfectly square to the arbor shafts.
Basic Knife Configurations

| | | |
| --- | --- | --- |
| Caution! | As From The Factory | Making A Single Slit |
| Knives are extremely sharp. Please observe all warnings and precautions before adjusting knives. | | |
| | Knives are in neutral position. | 1 set of knives are lightly touching. |
| Making 2 Simultaneous Slits | Making A Single Rib | Making 2 Simultaneous Ribs |
| | | |
| Both knife sets are lightly touching. | 1 set of knives are off-set 1/8". | Both sets are off-set 1/8". |
| Making 1 Slit & 1 Rib Simultaneously | Making A Double Rib "UP" | Making A Double Rib "DOWN" |
| | | |
| 1 set touching, 1 set 1/8 " apart. | 3 knives are spaced 1/8" apart. | 3 knives are spaced 1/8" apart |
TRIM-A-SLITTER KNIFE INSTALLATION AND REMOVAL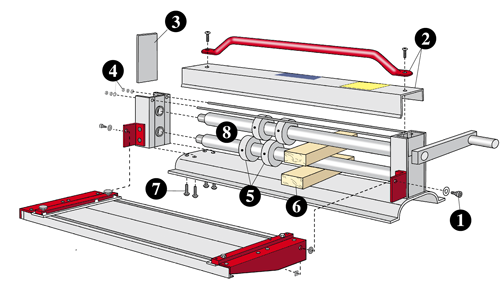 Step 1. Remove feed shelf - remove Allen head shoulder screws and square nuts which hold feed shelf to brackets - 1 screw & nut each side.
Step 2. Remove carrying handle and cover - remove Phillips head screw, one from each end of carrying handle.
Step 3. Remove end plate - slide upward from bearing block end.
Step 4. Free retaining rods - remove two nuts and washer from each retaining rod at the bearing block.
Step 5. Loosen and slide knives to left of center on shafts.
Step 6. Place shims/supports between shafts and base just left of center. (This avoids possible shaft/base deflection).
Step 7. Remove bearing block - remove 4 screws from bottom (see note at right). Tap gently and evenly from inside center of bearing block to ensure block slides off shafts evenly.
Step 8. Place additional knives on shafts, move knives from one shaft to another, etc.

REASSEMBLY
1. Slide bearing block & rods back into position.
2. Replace four screws holding bearing block to base and tighten. Shafts should fit snug against bronze bearings on both ends to prevent shafts from shifting laterally (side to side). Remove shims.
3. Reinstall washer and 1 nut to tie rod, tighten snugly. Nut is too tight when operating handle does not turn easily. Once properly tightened, install remaining nut.
4. Reverse assembly steps 3, 2 and 1.

Note: After the shelf is installed, the fixed guide should be checked to be at 90 degrees with the shafts