Bottle Jack, 10 ton, Steel Base with force gauge
Designed to distinctly display the force output by the jack on a large 4 inch gauge, a Powerful heavy-duty jack that is ideal for use in the automotive, machinery and construction industry.
Heavy duty hydraulic bottle jack; ideally used in automotive, machinery, and construction industry; steel base; 10 ton capacity
Features:
Welded steel construction throughout - reduces metal fatigue allowing for a longer use life.

Thick steel base provides excellent stability and strength.

Special plating and heat treatment on ram, extension screw and pump plunger provides up to three times the corrosion resistance of standard chrome plating.

Casing, cylinder and base are joined by electric welding for greater strength and are leak proof.

Needle style release valve provides controlled pressure release.

Safety valve device protects the hydraulic system from overload damage.

Large 4 inch gauge provides accurate force reading in Metric Tons.

Completely rebuildable and repairable.
Country of Origin: Japan
Specifications

Model Number

83-10P
83-20P

Capacity (Tons)

10

20

(A) Min Height (in)

9.45

10.63

(B) Ram Lift (in)

5.90

6.30

(C) Screw Ext. (in)

3.15

-

(D) Max Height (in)

18.50

16.93

(E) Saddle Dia (in)

1.85

2.05

(F x G) Base Area (in)

5.5 x 5.9

6 x 6.4

Shipping Weight (lbs)

24

34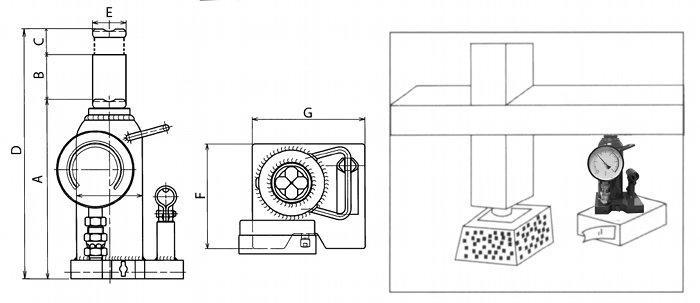 In addition to being used at a workstation or destruction test press,
the ZNP models can be used to weight objects and structures
There are no listed accessories.