Tailgate Mulchers Standard Features
Steel Discharge Cannon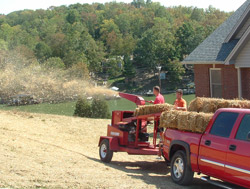 Eliminates the need for and wear and tear of flexible hose, and provides maintenance free use. The ability to attach an extension hose up to 100' in length is possible with our hose adapter that easily connects to the Cannon Discharge.
Beater Flail Chains
Superior to cutting knives seen on competitive straw blower models, flail chains pulverize the straw, rather than cut it, allowing the user to blow damp straw as well as heavier materials such as hay without clogging. Standard Grade 8 log chain is easily replaced locally or through your dealer. No broken knives to replace or sharpen.
No Electric Clutch
A direct belt drive between the engine and the blower provides control of the speed and shut off of the blower without a clutch. No more burnt out electric clutches.
Belt Drive
Triple-V belt design allows for smooth operation. A belt drive is superior to a direct coupling of the engine and beater shaft, reducing vibration and eliminating coupling failure. And there are no faulty spring-loaded tensioners. Belt tension is adjusted via engine mount.
Air Cooled Diesel Engine
The Model 35 features an air cooled diesel engine which is superior to a liquid cooled diesel for blown straw applications and our engineered air cleaner prevents any debris from collecting and overheating the engine, a problem that frequently occurs with competitors models that feature liquid cooled diesel engines.
Engineered Air Cleaner
Our engineered air cleaner eliminates debris and chaff from accumulating at the engine air intake and prevents repeated overheated engine failure.
Skid or Trailer Mounted
The Tailgate Mulcher is easily transported via fork slots and can be chained or strapped down to your truck or trailer. Our simple trailer mount system allows the user to remove the skid unit with little effort.