Bomag Reversible Vibratory Plates BPH80/
Benefits at a glance
Standard umbilical remote operation allows operator to remain safely out of the trench.

Optional cable/radio remote provides additional working range.

Hydraulic travel and vibration control system provides responsive steering capabilities.

Standard wear extension plates increase working widths and add versatility.

Low center of gravity and operating height enhance stability and allow operation in reduced-ceiling and confined environments.

Heavy-duty steel hood protects against on-site conditions and transport hazards.

Single, balanced lifting point provides simple loading and unloading.

Lockable engine cover and dashboard discourage vandalism.
Fields of application
Compaction of granular and mixed soils

Backfilling trenches

Compaction of backfill around pipelines

Asphalt compaction
Features
Hydrostatic drive

Diesel engine with low oil level automatic shutdown

Electric start

Wear resistant base plate with reinforced edges

Fully covered engine and component protection hoods made of high strength steel

Lockable engine cover and dashboard

Multi-functional, foldable style lifting point

Cable remote control

Easy service concept

Diagnostic module with failure codes
Specifications

Model

BPH80/65S

Basic Weight lbs (kg)

1627 (738)

Operating Weight (W) lbs (kg)

1570 (712)

Operating Weight (W1) lbs (kg)

1638 (743)

Surface load (W) lb/in2 (kg/m2)

3.12 (2190)

Surface load (W1) lb/in2 (kg/m2)

2.64 (1858)

Working speed max. ft / min (m / min)

92 (28)

Max. gradeability percent

30

Engine manufacturer

Hatz

Type

1D 90 W

Cooling

Air

Number of cylinders

1

Performance ISO 9249 hp (kW)

15.2 (11.3)

Speed rpm

3000

Drive system

hydrostatic

Fuel

Diesel

Frequency vpm (Hz)

3300 (55)

Centrifugal force lbs (kN)

18000 (80)

Fuel gal (l)

2.6 (10)

Hydraulic gal (l)

6.6 (25)

Technical modifi cations reserved. Machines may be shown with options.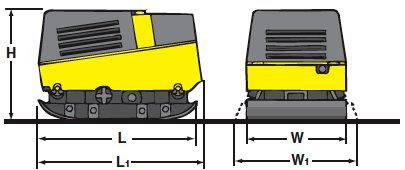 | Dimensions in inches (mm) | H | L | L1 | W | W1 |
| --- | --- | --- | --- | --- | --- |
| BPH80/65S | 30.9 (785) | 42.5 (1080) | 42.8 (1088) | 25.6 (650) | 31.5 (800) |
Models and Accessories

BPH80/65SD/E

BPH80/65SD/E 40in, 5291lbs, 5175 / 8550 lbs (Diesel) 32in, 1638lbs, 18000lbs (Diesel/E-Start/C-Remote)
BPH80/65SD/E REVERSIBLE PLATE TAMPER - 31.5IN, 1638LBS, 18000LBS (DIESEL/E-START/CABLE AND RADIO REMOTE)
FALL EQUIPMENT PROMOTION - LIMITED TIME OFFER

Mfg. item #: BPH80/65SD/E

BOMBPH80/65SD/E

FREE motor freight to commercial address or terminal pickup in lower 48 states. Residential or Export Orders call 800-458-3687.6

Copyright © 2021 Smith-Hamilton, Inc