Huth Bender Operations Manual

Huth Segment Set Silhouette Charts

Huth O-Ring Silhouette Charts

Huth Bender Hydraulic Parts Breakdown

Huth Controlled Wrinkle Die
The 2600 is designed for production work and bending heavier materials up to 3 inch OD. It meets the standards set by our other models for precise bending and end finishing.
The 2600 provides 85,000 lbs. of bending force in comparison to 58,000 lbs. produced by our other models. It comes standard with a 7-1/2 HP motor. A 3 inch tube bent to 90-degree in the automatic mode can be completed in 16 seconds.
The ergonomically designed knee control allows the operator hands-free control for quick tube location and securing of the tube. It is also invaluable for prototyping.
The smart automatic mode features an adjustable return-to-home position control. This unique, time saving feature increases efficiency by assuring fast and easy transitions between multiple bends. The automatic depth-of-bend selector ensures precise bending control through the use of an easy-to-read, easy-to-adjust depth-of-bend plate. This feature assures accuracy and repeatability.
The swager/expander gives you complete end-finishing capabilities. The swager end accommodates 1 to 3 inch tubing. The expander end allows for expansions from 1 to 5-1/2 inch. With Huths Accu-Sizer bulls-eye expanding system, you can dial in precise expansions every time.
Control Wrinkle Die 5531 now available for this model to bend 304 Stainless Steel.
* Available without swager/expander Model 2601
End Forming Wizardry With The Swage Box:
Most Huth and Ben Pearson benders have a long unique looking contraption on one end known as the swage box... It is also featured on our popular 1673 expander/reducer/swaging machine as well. Swage (pronounced swedge) is an uncommon word, and it most commonly refers to forming different shapes with metal tube. The swage box is an extremely handy device for many tube end forming techniques… some think of it as almost magical in that it allows the operator to fabricate a myriad of end-forms.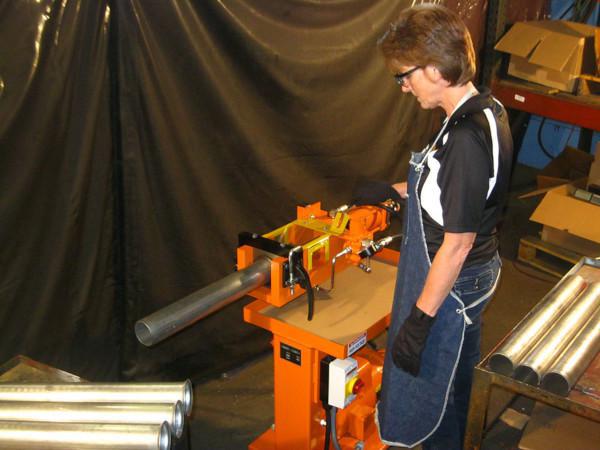 In the swage box, you can do Solid-Tool Expansion with a swage die. The advantage of solid tool expansion is controlled uniformity around the perimeter of the expansion (a segmented expander has microscopic indentations between the expander fingers).
Tube Diameter Reduction is possible in a swage box. This allows fabrication slip fits where one tube is slid inside the other in a way that appears practically seamless from the outside.
Creating Flanges And Flares can be done in the swage box with flange and flare tooling. Want a flange that goes 90 degrees out from the tube end? Simple. Use a 45 degree flare tool to create the 1st 45 degrees, then spin the tool around and push it the remaining 45 degrees until it sticks out perpendicularly from the tube end.
Doming And Both Male And Female Ball Joint Ends are possible in the swage box. Ball joint connections can be used to help hold two tubes together in a way that allows some movement at the joint.
One of the keys to forming in the swage box is holding the tube firmly with the collets and collet holder. The forces required to form the new metal shapes are great… 25,000 lbs of force exerted across just a few inches of diameter. We have created a cool time-saving accessory… the dead stop system… to help people locking in the length when making repeated parts.
On the other end of the swage box is the expanding cylinder. Using segmented tooling and Huth's unique AccuSizer system, you can quickly and efficiently create slip fits, flares, ball joint connections, AND MORE! Custom Solutions Available Upon Request.
Let us know how we can help you create end-forming magic with your own swage box!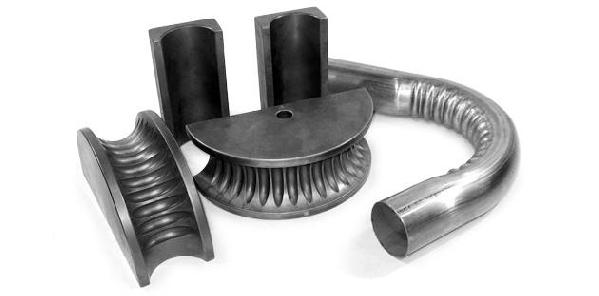 Controlled Wrinkle Dies

No.

DESCRIPTION

MODEL

4112W

4 inch RADIUS DIE, 1-1/2 inch

ALL

5112W

5 inch RADIUS DIE, 1-1/2 inch

ALL

5158W

5 inch RADIUS DIE, 1-5/8 inch

ALL

3134W

3 inch RADIUS DIE, 1-3/4 inch

ALL

4134W

4 inch RADIUS DIE, 1-3/4 inch

ALL

5134W

5 inch RADIUS DIE, 1-3/4 inch

ALL

3200W

3 inch RADIUS DIE, 2 inch

ALL

4200W

4 inch RADIUS DIE, 2 inch

ALL

5200W

5 inch RADIUS DIE, 2 inch

ALL

4414W

4 inch RADIUS DIE, 2-1/4 inch

ALL

5414W

5 inch RADIUS DIE, 2-1/4 inch

ALL

4409W

4 inch RADIUS DIE, 2-1/2 inch

ALL

5412W

5 inch RADIUS DIE, 2-1/2 inch

ALL

5534W

5 inch RADIUS DIE, 2-3/4 inch

ALL

5578W

5 inch RADIUS DIE, 2-7/8 inch

ALL

5530W

5 inch RADIUS DIE, 3 inch

ALL

5531

*

5 inch RADIUS DIE, 3 inch

2600

No.

CORRESPONDING BACKSHOE SIZE

1112

Back Shoe 1-1/2 inch (2 Required)

*

*

1112

Back Shoe 1-1/2 inch (2 Required)

*

*

1158

Back Shoe 1-5/8 inch (2 Required)

*

*

1134

Back Shoe 1-3/4 inch (2 Required)

*

*

1134

Back Shoe 1-3/4 inch (2 Required)

*

*

1134

Back Shoe 1-3/4 inch (2 Required)

*

*

1200

Back Shoe 2 inch (2 Required)

*

*

1200

Back Shoe 2 inch (2 Required)

*

*

1200

Back Shoe 2 inch (2 Required)

*

*

4211

Back Shoe 2-1/4 inch (2 Required)

*

*

4211

Back Shoe 2-1/4 inch (2 Required)

*

*

4412

Back Shoe 2-1/2 inch (2 Required)

*

*

4412

Back Shoe 2-1/2 inch (2 Required)

*

*

1234

Back Shoe 2-3/4 inch (2 Required)

*

*

1378

Back Shoe 2-7/8 inch (2 Required)

*

*

1350

Back Shoe 3 inch (2 Requried)

*

*

1350

*

Back Shoe 3 inch (2 Requried)

*

*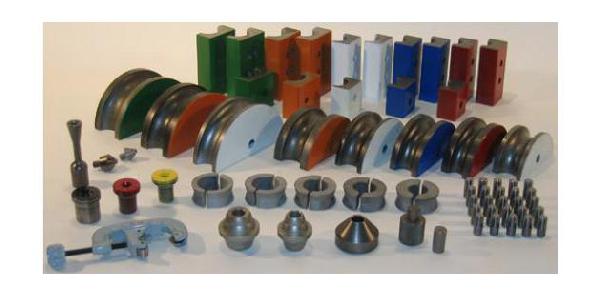 010 Die Package Tooling

Radius Dies

No.

Radius

Size

5200 *

5 in

2 in

5414

5 in

2-1/4 in

5412

5 in

2-1/2 in

4112

4 in

1-1/2 in

4134

4 in

1-3/4 in

4200

4 in

2 in

4414

4 in

2 1/4 in

3200

3 in

2 in

Back Shoes

No.

Pcs.

Size

1112

2

1-1/2 in

1134

2

1-3/4 in

1200

2

2 in

4211

2

2-1/4 in

4412

2

2-1/2 in




Half shoes

No.

Size

1038

1-1/2 in

1040

1-3/4 in

1045

2 in

4416

2-1/4 in

4410

2-1/2 in

Collet Sets

No.

Size

1712

1-1/2 in

1734

1-3/4 in

1720

2 in

1725

2-1/4 in

1750

2-1/2 in

Ball Joint Tooling

No.

Size

555

1-3/4, 1-7/8, 2 in Female

556

2-1/4, 2-1/2 in Female

Arbor

No.

Size

508

1-1/2 to 4 in

498

Tip: 1-1/2 to 1-3/4 in

499

Tip: 1-3/4 to 4 in

Segment Sets

No.

Size

473

1-1/2 to 1-3/4 in

474

1-3/4 to 2-1/8 in

475

2-1/8 to 2-1/2 in

Accessories

No.

Description

815

Die Holder

816

Die Holding Pin

835

Tube Cutter

853

1-1/2 to 3-1/2 in - Flaring/Flanging Tool

855

Die pins (25)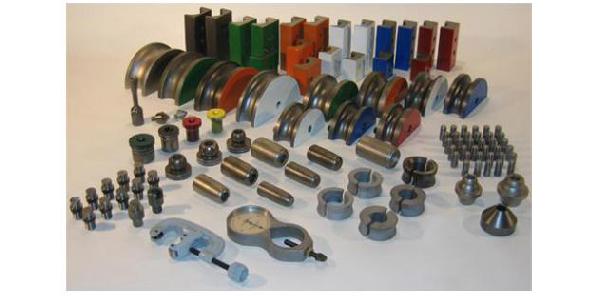 011 Die Package Tooling

Radius Dies

No.

Radius

Size

5530 *

5 in

3 in

5200 *

5 in

2 in

5414 *

5 in

2 1/4 in

5412

5 in

2-1/2 in

4134

4 in

1-3/4 in

4200

4 in

2 in

4414

4 in

2 1/4 in

4409

4 in

2-1/2 in

3112

3 in

1-1/2 in

3134

3 in

1-3/4 in

3200

3 in

2 in

* Requires 41041 retainer

Back Shoes

No.

Pcs.

Size

1112

2

1-1/2 in

1134

2

1-3/4 in

1200

2

2 in

4211

2

2-1/4 in

4412

2

2-1/2 in

1350
2
3 in

Half shoes

No.

Size

1038

1-1/2 in

1040

1-3/4 in

1045

2 in

4416

2-1/4 in

4410

2-1/2 in

Three-Quarter shoes

No.

Size

1046

2 in

4413

2-1/4 in

Swage Dies

No.

Size

112

1-1/2 in

134

1-3/4 in

178

1-7/8 in

120

2 in

125

2-1/4 in

150

2-1/2 in

Collet Sets

No.

Size

1712

1-1/2 in

1734

1-3/4 in

1720DF

2 in

1725

2-1/4 in

1750

2-1/2 in

Ball Joint Tooling

No.

Size

555

1-3/4, 1-7/8, 2 in Female

556

2-1/4, 2-1/2 in Female

Ball Joint Segments
419

2 in

420

2-1/4 in

421

2-1/2 in

Flaring Tool

No.

Size

518
2 in Double Flare and
1-1/2 in Flat Flare

Arbor

No.

Size

508

1-1/2 to 4 in

498

Tip: 1-1/2 to 1-3/4 in

499

Tip: 1-3/4 to 4 in

Segment Sets

No.

Size

473

1-1/2 to 1-3/4 in

474

1-3/4 to 2-1/8 in

475

2-1/8 to 2-1/2 in

476

2-1/2 to 3 in

Accessories

No.

Description

825

Quick Disconnect Kit

835

Tube Cutter

853

1-1/2 to 3-1/2 in - Flaring/Flanging Tool

855

Die pins (25)

996
Rotation Dial
950
Program Card System
or
980
Program Card System in Electronic Format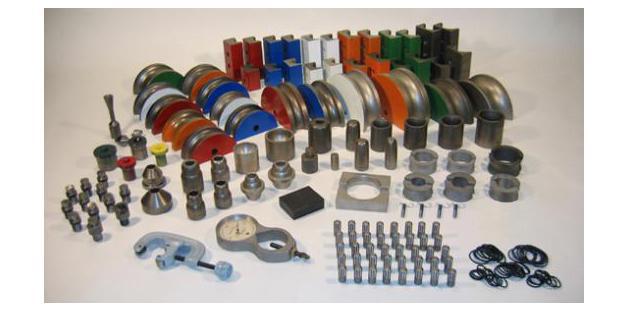 013 Die Package Tooling

Radius Dies

No.

Radius

Size

5112 *

5 in

1-1/2 in

5134 *

5 in

1-3/4 in

5820 *

5 in

2 in 180 deg

5824 *

5 in

2 1/4 in 180 deg

5412 *

5 in

2-1/2 in

5530 *

5 in

3 in

4112

4 in

1-1/2 in

4134

4 in

1-3/4 in

4200

4 in

2 in

4414

4 in

2 1/4 in

4409

4 in

2-1/2 in

3112

3 in

1-1/2 in

3134

3 in

1-3/4 in

3200

3 in

2 in

3414

3 in

2-1/2 in

* Requires 41041 retainer

Back Shoes

No.

Pcs.

Size

1112

2

1-1/2 in

1134

2

1-3/4 in

1200

2

2 in

4211

2

2-1/4 in

4412

2

2-1/2 in

1350
2
3 in

Half shoes

No.

Size

1038

1-1/2 in

1040

1-3/4 in

1045

2 in

4416

2-1/4 in

4410

2-1/2 in

1352

3 in

Three-Quarter shoes

No.

Size

1036

1-3/4 in

1046

2 in

4413

2-1/4 in

4415

2-1/2 in

1351

3 in

Swage Dies

No.

Size

112

1-1/2 in

134

1-3/4 in

178

1-7/8 in

130

3 in

* For 2, 2-1⁄4, 2-1⁄2 in IDs use male ball joint tools 550, 552, 553

Collet Sets

No.

Size

1712

1-1/2 in

1734

1-3/4 in

1720

2 in

1725

2-1/4 in

1750

2-1/2 in

1730

3 in

Ball Joint Tooling

No.

Size

550

1-3/4 in - Male

552

2 in - Male

553

2-1/4 in Male

554

2-1/2 in Male

555
1-3⁄4, 1-7⁄8, 2 in - Female
556
2-1⁄4, 2-1⁄2 in - Female
557
1-3⁄4 to 2-1⁄2 in - Domer
558
2-1⁄2 to 2-3⁄4 in - Domer

Flaring Segments 45 degrees

No.

Size

440
1-1⁄2 to 2-1⁄2 in

Arbor

No.

Size

508

1-1/2 to 4 in

498

Tip: 1-1/2 to 1-3/4 in

499

Tip: 1-3/4 to 4 in

Segment Sets

No.

Size

473

1-1/2 to 1-3/4 in

474

1-3/4 to 2-1/8 in

475

2-1/8 to 2-1/2 in

476

2-1/2 to 3 in

Accessories

No.

Description

815
Die Holder
816
Die Holding Pin

825

Quick Disconnect Kit

835

Tube Cutter

852
Blank Plate

853

1-1/2 to 3-1/2 in - Flaring/Flanging Tool

855

Die pins (25)

870
O-Rings-Rubber Assist
892
Collet Holder
996
Rotation Dial
950
Program Card System
or
980
Program Card System in Electronic Format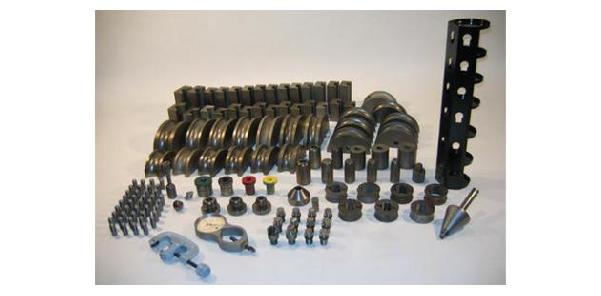 016 Die Package Metric Tooling - Export

Radius Dies

No.

Radius

Size

5040
5 in
40mm
5042
5 in
42mm
5045
5 in
45mm
5048
5 in
48mm
5050
5 in
50mm
5218
5 in
54mm
5060
5 in
60mm
4040
4 in
40mm
4042
4 in
42mm
4045
4 in
45mm
4048
3 in
48mm
4050
4 in
50mm
4218
4 in
54mm
4060
4 in
60mm
3040
3 in
40mm
3042
3 in
42mm
3045
3 in
45mm
3048
3 in
48mm
3050
3 in
50mm
3218
3 in
54mm

Back Shoes

No.

Pcs.

Size

1340

2

40mm
1342

2

42mm
1345

2

45mm
1348

2

48mm
1349

2

49mm
1218
2
54mm
1360
2
60mm

Reducing Dies
No.
Size
760
50mm to 45mm
761
55mm to 50mm
762
65mm to 60mm

Three-Quarter shoes

No.

Size

1540
40mm
1542
42mm
1545
45mm
1548
48mm
1550
50mm
1053
54mm
1560
60mm
Swage Dies

No.

Size

140
40mm
142
42mm
145
45mm
148
48mm
149
50mm
128
54mm
160
60mm

Collet Sets

No.

Size

1740
40mm
1742
42mm
1745
45mm
1700
48mm
1705
50mm
1728
54mm
1760
60mm
Half Shoes

No.

Size

1405
40mm
1425
42mm
1455
45mm
1448
48mm
1450
50mm
1051
54mm
1460
60mm

Ball Joint Segments

No.

Size

419
50mm
420
55mm
421
60mm

Arbor

No.

Size

508

35 to 101

mm ID

498

Tip: 35 to 45mm ID

499

Tip: 40 to 101mm ID

Segment Sets

No.

Size

473

35 to 45mm ID

474

45 to 54mm ID

475

54 to 64mm ID
476
64 to 76mm ID

Accessories

No.

Description

815
Die Holder
816
Die Holding Pin

825

Quick Disconnect Kit

835

Tube Cutter

853

1-1/2 Flaring/Flanging Tool

855

Die pins (40)

870
O-Rings-Rubber Assist
984
Pipe End Shaper
996
Rotation Dial
91176
Ready Rak II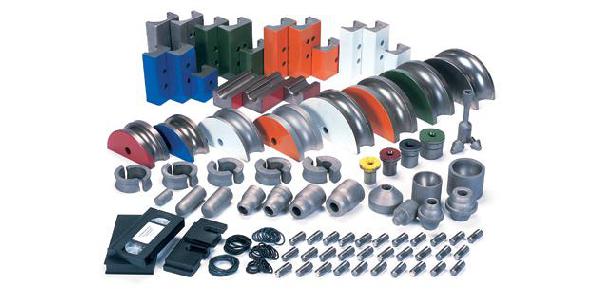 028 Die Package Tooling

Radius Dies
No.
Radius
Size
5530 *
5 in
3 in
5200 *
5 in
2 in
5414 *
5 in
2-1/4 in
5412 *
5 in
2-1/2 in
4200
4 in
2 in
4414
4 in
2-1/4 in
3112
3 in
1-1/2 in
3134
3 in
1-3/4 in
* Requires 41041 retainer
Back Shoes
No.
Pcs.
Size
1112
2
1-1/2 in
1134
2
1-3/4 in
1200
2
2 in
4211
2
2-1/4 in
4412
2
2-1/2 in
1350
2
3 in
Half Shoes
No.
Size
1038
1-1/2 in
1040
1-3/4 in
1045
2 in
4416
2-1/4 in
4410
2-1/2 in

Ball Joint Tooling
No.
Size
550
1-3/4 in Male **
552
2 in Male ***
553
2-1/4 in Male ****
554
2-1/2 in Male *****
555
1-3⁄4 to 2 in Female
556
2-1⁄4 to 2-1⁄2 in Female
Swage Dies
112
1-1/2 in
134
1-3/4 in
**
For a 2 in ID Use Male Ball Tool 550
***
For a 2-1⁄4 in ID Use Male Ball Tool 552
****
For a 2-1⁄2 in ID Use Male Ball Tool 553
*****
For a 2-3⁄4 in ID Use Male Ball Tool 554
Collect Sets
No.
Size
1712
1-1/2 in
1734
1-3/4 in
1720
2 in
1725
2-1/4 in
1750
2-1/2 in




Doming Dies
No.
Size
557
2-1/2 in
558
2-3/4 in
Arbor
No.
Size
508
1-1/2 to 4 in
498
Tip: 1-1/2 to 1-3/4 in
499
Tip: 1-3/4 to 4 in
Segment Size
No.
Size
473
1-1/2 to 1-3/4 in
474
1-3/4 to 2-1/8 in
475
2-1/8 to 2-1/2 in
476
2-1/2 to 4 in
Accessories
853
1-1⁄2 to 3-1⁄2 in Flaring/Flanging Tool
855
Die pins (30)
815
Die Holder
816
Die Holding Pin
870







Note: Individual tooling is availabel call 1-800-458-3687 ext 1 to receive
pricing on individual tooling for this equipment