Stop dragging around loading and unloading your inefficient gasoline powered trash and water pumps! TrunkPumps mount to most Category 1 three point hitch tractors and are efficiently powered by the PTO, turning your pumping requirements into an easy one-person job. TrunkPump saves time, money, labor and fatigue while improving safety, energy efficiency and maintenance upkeep.

TrunkPumps dewatering, transfer, trash and pressure pumps handle a wide variety of applications typical in construction, agriculture, grounds and turf management, golf course maintenance, highway and road building and municipal maintenance and safety.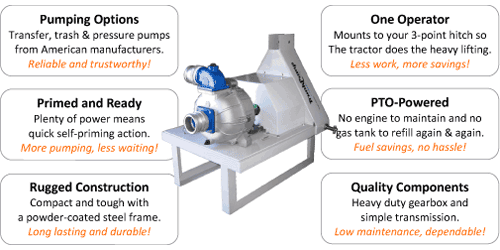 A TrunkPump for Every Job
TrunkPumps come in a range of sizes with 2, 3 and 4 inch inlets with flow rates from 140 to over 500 gallons per minute and head pressure ranges from 80 to over 200 feet. We have a special model designed to work with the popular Ventrac/Steiner tractors.

The Proof is in the Pump
Our Guarantee is simple. If you don't love your TrunkPump, return it. No questions asked. And because you don't know when it's going to rain, and neither do we, keep the TrunkPump until you have a chance to use it is up to one year. Do not wait do it today!
TP-3PT: 3" Self-Priming Reinforced Polyester Dewatering Pump

Use for a wide range of water/liquid transfer/evacuation applications where volume is important; easy and economical to maintain.Pump: 3" self-priming reinforced polyester centrifugal pump with EPDM rubber coated volute and seals, plastic impeller and stainless steel internal hardware.
Pulleys: Cast Iron
Frame: TGIC Powder Coated Steel
Dimensions: 32" L x 26" W x 37" H
Weight: 200 lbs.
Performance: 440gpm, up to 52psi
FAQ - Frequently Asked Questions
Why should I choose TrunkPump?
Low maintenance and ease of use are the main reasons. If you do not like maintaining a gas-powered pump and are tired of lugging one around, TrunkPump might be the right choice for you.
So, it just hooks up to my tractor?
Yes, it attaches to your Category 1 three-point hitch and is powered by the Power Take Off (PTO).
What about horsepower requirements?
Our largest pump (4 inch requires 15hp, the others only 8hp. Most compact tractors have more than enough power to run a TrunkPump.
Sounds pretty simple, how does it work?
It is simple, by design. TrunkPump takes the power from your tractor, reverses the rotation and increases rpms from 540rpm up to 3500rpm to power the pump. All this is done on a sturdy platform for easy and safe transport.
What is this I hear about a hydraulic version?
After years of requests we now offer a hydraulically driven model that is powered by the remote hydraulics from a variety of compact equipment ÂÄÂùfrom a Bobcat down to the Dingo that ate my baby.
Are there any special requirements for the hydraulic model?
The hydraulic model requires 9gpm of hydraulic flow at 1250psi.
What if I have got less or more flow than that?
If you have got less flow the pump will run at low speed and not work properly. If you have more flow our priority flow manifold sends a priority flow of 9gpm/1250psi to the pump and the excess returns to your hydraulic source.
I have got some more questions, what should I do?
Please contact us! Email sales@southern-tool.com call our toll-free number at 800-458-3687
HOSE PACKAGES
Complete the TrunkPump with reinforced PVC suction hoses and PVC lay-flat discharge hoses. Custom lengths available upon request.
HP-3PT: 3" x 7' "Trunk" Suction Hose, 3" x 25' Discharge Hose, CS-3 Strainer w/ Elbow
HP-3LG: 3" x 20' Suction Hose, 3" x 25' Discharge Hose, CS-3 Strainer w/ Elbow
CUSTOM STRAINERS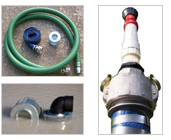 Keep out unwanted trash and pump in shallow water to 1/2" with our custom Deep Draw Strainer or pump in shallow water to 1/4" (basements, precious turf) with our Top-Hole Strainer.

CS-3: 3" Shallow Water Strainer 1/2" Depth w/ 90° Elbow
SS-3: 3" Top-Hole Strainer 1/4" Depth w/ 90° Elbow
NOZZLE PACKAGES
Connect to discharge hose for pressure applications such as washing equipment, fire fighting, irrigation, etc.
NP-3: for 3" pumps, reduced to adj. flow nozzle (1-1/2")
FUEL SAVINGS KIT
The Fuel Savings Kit modifies 3-Point models to pump at full capacity with throttle at 60% to conserve fuel.
FSK-1: Fuel Savings Conversion Kit