All Van Mark Brakes, Tools and Accessories are
Manufactured AND Assembled in the USA!
Click Here to Download
Get back on track with the new standard in portable brakes. The new Industrial Metal Master 20 EZ gives you more flexibility to make the complex bends now in demand with metal & commercial roofing jobs. With a throat depth of 20 3/8 inch (51.8cm), the Industrial Metal Master 20 EZ has now become the new standard from which others will be measured.
The first and only portable 20 3/8 inch (51.8cm) throat brake on the market!
Over a quarter century ago, Van Mark introduced the worlds first cam locking system in a portable brake. Through time it has proven to be the strongest and most reliable locking mechanism. Now Van Mark has done it again with our new Industrial Metal Master 20 EZ incorporating the best locking system with the deepest throat in the portable brake industry.

The Industrial Metal Master 20 EZ comes with the latest in computer-aided design and manufacturing to provide the best one-stop-shop for all your job site bending, from W style valley-pan and rake edges, to soffits and roof flashings, including wide hip and ridge cap, HVAC duct and plenum work, to name a few.
Note : The difference between the Contractor & Commercial Grade Van Mark Brakes is that the Commercial Brakes have more C Brackets therefore
making the Commercial Models a more Heavy Duty unit for extreme work environments
Click here to download product flyer
Other sizes Available Please Call for Pricing
Van Mark Brakes Work as Hard as You Do!
The Industrial Metal Master 20 EZ is designed to work with many of the accessories used with other Van Mark brakes, including TrimCutter (seen right).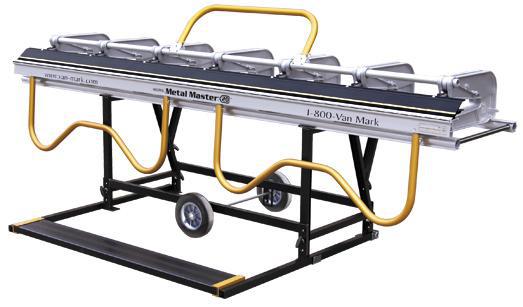 TrimCutter Cuts light to heavy sheet materials right on the machine. A unique 4-point track bearing system means this tool does not ride off the brake during cut (the ONLY cutter that can make that claim).

NailHawg Gets the metal scrap, shards, nails and screws in a matter of seconds. Unique toe/hand release puts debris where you want it resulting in a worry-free clean-up job after job.

Trim-A-Slitter S24C (shown), comes with 2 sets of cutting knives and has optional perforating dies available for making custom ventilation components right on the job. Each set provides 3.625 inches of net free area of ventilation per linear foot per pass. Motor Kits are also available for automating your slitting duties, saving both time and money.

Trim-A-Gutter This innovative tool lets you market, sell and install gutter-cover under your own name. Form gutter-cover from trim coil or from gutter-coil to fit virtually any profile. Optional mounting brackets are extruded from aluminum and can be installed without dropping existing gutter. Note: Marketing tools available on DVD or CD-Rom.
From its portable, lightweight design, to its heavy-bending capability and superior durability, the Industrial Metal Master 20 EZ answers the demand for quality and flexibility.
New reinforced Lock Master castings are 25 percent stronger.

Deepest working pocket available at 20 3/8 inch.

Low profile extended platform is 9 inch longer.

Center-Weighted wheels spin on a dime.

Large Heavy-Duty Ball Bearing Wheels.

Ergonomic heavy-duty bending handles.