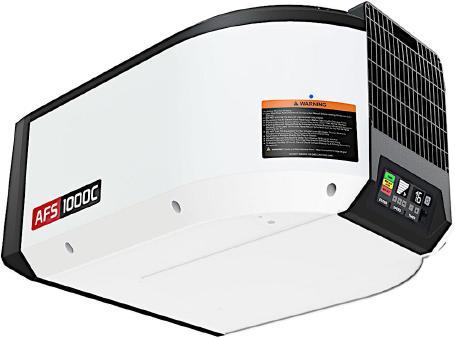 AFS-1000C 1000CFM Air Filtration System
Improved design and added technology make the AFS1000C a must have in any shop.The AFS1000C detects dust levels and can adjust fan speed accordingly. The filter life is also monitored and displayed on the tilted LED display panel.ABS injection molded body makes the unit lighter and less prone to damage.Bright LED display shows filter life, speed, and timer settings.A Radio Frequency remote makes changing speed and setting the timer, up to 16 hours, from any where in the shop.
Features:
Automatic air quality sensor adjusts the six speeds based on air quality.

Captures particles down to 1 micron.

Timer can be set up to 16 hours.

Bright, clear, LED display panel is angled for easier viewing when ceiling mounted.

Two-Filter system with air Diffuser disperses air into a broader pattern.

LED notification of filter life updated by sensor

Radio frequency remote makes adjusting speeds and setting the timer easy.

Quiet and efficient BLDC motor.

Strong injection molded plastic dampens vibration and noise
Specifications

Stock Number

713000

Gross Weight (Lbs)

41.8

Inner Filter Efficiency

1

Motor Amps

3.8

Motor Phase

Single

Motor Power (HP)

1/3

Motor Voltage (V.)

120

Net Weight (Lbs.)

33

Overall Dimensions (L x W x H) (In.)

765 x 615 x 390 /mm

Overall Height (In.)

390mm

Prewired Voltage (V.)

120

Recommended Circuit Size (Amps.)

15

Speeds

6

Speeds (CFM)

450 - 1000

Full Load Amps

15

Sound Rating (Db.)

51 - 67db at 1 meter

Timer Settings (hrs)

1 - 16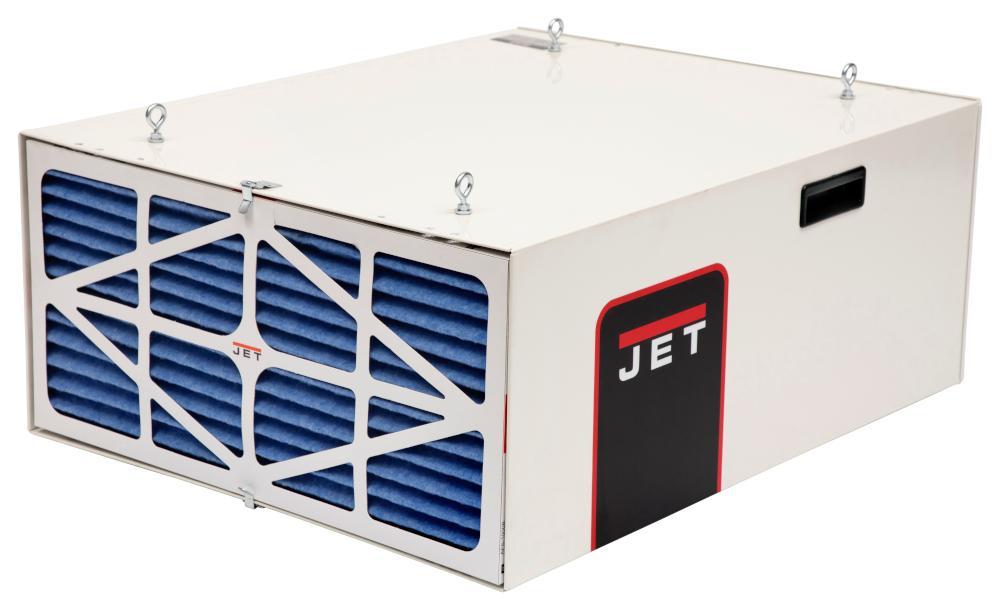 This powerful unit is perfect for the smaller home shop. Simply hang it from the ceiling turn it on and it will clear the room of those fine dust particles. This unit was the first in the industry with remote control, timer and three speeds which have quickly become the industry standard.
The Jet AFS-1000B, 1000 CFM Air Filtration System, 3-Speed, with Remote Control
has a 5 Year warranty
Disposable Electrostatic Outer Filter attracts more dust particles than standard filters

Inner Pocket Filter is removable for easy cleaning

Easy Grip Handles allow easy portability of unit

Four Eye Bolts (with AFS-1000B only) let you hang unit from shop ceiling

Remote Control has built-in timer with 2, 4 and 8-hour settings; automatically shuts system off at the end of the time setting

Fully-Enclosed Ball Bearing Motor with Overload Protection for long, dependable service

Rubber Feet prevent marring of surface when placed on workbench
| Model Number | AFS-1000B |
| --- | --- |
| Brand | Jet |
| Overall Dimensions | 30-1/4 x 24-1/8 x 12-1/8 |
| Height | 15 inch |
| Width | 26.2 inch |
| Length | 32.5 inch |
| Net Weight | 54 pound |
| Gross Weight | 61 pound |
| Flex Specs Description 1 | Filter Cycle (min.) |
| Flex Specs Value 1 | 3.06 |
| Flex Specs Description 2 | Cycles per Hour (20'x20'x8') |
| Flex Specs Value 2 | 19.58 |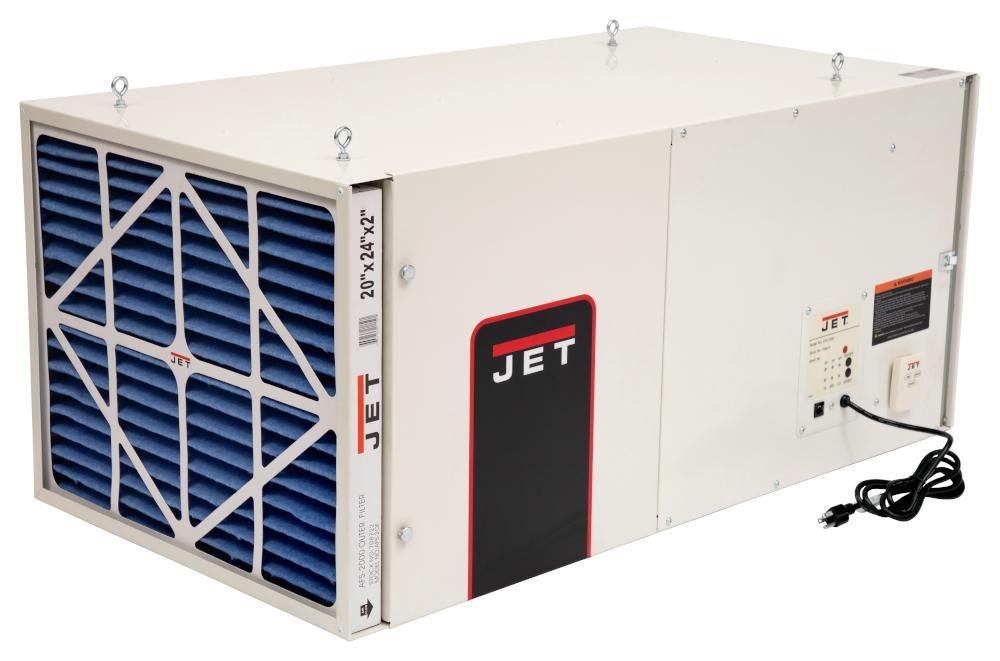 AFS-2000, 1700CFM Air Filtration System, 3-Speed, with Remote Control
has a 5 Year warranty
Three-Filter System with Air Diffuser disperses outgoing air into a broader pattern

Disposable Electrostatic Outer Filter attracts more dust particles than standard filters

Inner Pocket Filter is removable for easy cleaning

Adjustable Exhaust directs the air where you want it for optimal circulation

Easy Grip Handles allow easy portability of unit

Four Eye Bolts let you hang unit from shop ceiling; all hardware included

Remote Control has built-in timer with 2, 4 and 8-hour settings; automatically shuts system off at the end of the time setting

Fully-Enclosed Ball Bearing Motor with Overload Protection for long, dependable service

Rubber Feet prevent marring of surface when placed on workbench
Detailed Specifications

Cycles Per Hour (20' x 20' x 8')

31.91

Inner Filter Efficiency

1

Speeds

800/1200/1700

Timer Settings

2/4/8

Motor Power (HP)

1/3

Motor Phase (PH)

1

Motor Amps

7.7

Height

23.0000

Length

47.0000

Weight

121.0000

Width

27.0000