36 inch Guardrail Stanchion Slab Grabbers
Keeping your guard rail projects in line are easy work with the Ellis Guard Rail Stanchion. For affordably fast, safe, and unusually strong guard rails, the Ellis Guard Rail Stanchions quickly adjust to concrete slabs up to 36 inches while clamping onto the slab at every 6 feet. Use 2x4s, 2x6s or cable for rails and 2x4s for toe boards.
Available new or used in a PAINTED or GALVANIZED FINISH!!
ELLIS SLAB GRABBER BENEFITS: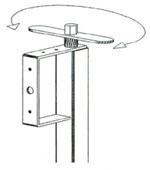 FAST
Easily and quickly adjusts with the handle to fit slabs up to 36 inch. Wrench adjustment is optional. Just 20 Ft. / Lbs. of torque is needed to secure guardrail to slab edge.

STRONG
Constructed with 5/8 inch Acme Screw inside for firm grip on slab. Will withstand horizontal loads in excess of 250 lbs.

SAFE & RELIABLE
Meets and exceeds OSHA standards. Manufactured with quality welds and durable steel. Height of Guardrail Stanchion from top of slab to top rail is 46 inch.

AFFORDABLE:
Like all Ellis Manufacturing Products, this one is built to last and only requires a minimal investment.

Perfect for concrete construction, Ellis Guard Rail Stanchions are a favorite of concrete contractors who are looking for a fast, affordable way to create strong guard railing.