Huth Expander Models 1673/1674 Operations Manual
Mounted on its own easy wheeling cart, Huths Model 1674 portable expander equips you to use all existing Huth expanding tooling. Now with the powerful 5 inch cylinder you can expand tubing from 3 inch up to, and larger than 6 inch diameter, 3 inch deep. The large tray allows you to keep your tooling within easy reach. Just wheel the 1674 to where the work is.
Includes 41047 Accu - Sizer adjustable collar for the 3-1/2 inch cylinder, and the 527 adjustable collar with the 528 collar extension for the 5 inch cylinder.
Features:
5 HP Motor, single-phase (30 amp), or Three-phase (20-amp)

Runs on 220 volt, 60 Hz supply. 50 Hz and other voltages available.

The 3-1/2 inch cylinder produces 25,000 lbs. of expanding power. The 5 inch cylinder produces 49,000 lbs of expanding power.

Front swivel casters with brakes

Features Huths Accu-Sizer(tm) automatic, preset expanding system for quick, precise expanding each and every time

15ft power cord with male and female receptacles
Call 1-800-458-3687 For Your Specific Tooling Application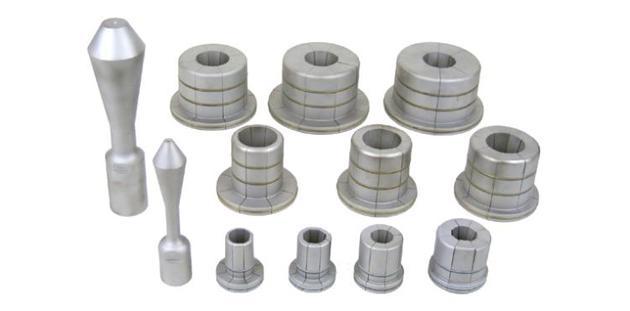 No.
TYPE
Size
Arbor and Segments
574

*

Arbor
27/8 to 6 inch
572
Arbor
1-3/8 to 1-3/4 inch (Solid Piece)
573
Arbor
1-3/4 to 4 inch (Solid Piece)
481
Segment
2-7/8 to 3-1/2 inch
472
Segment
1-1/2 to 1-3/4 inch (Solid Surface)
474
Segment
1-3/4 to 2-1/8 inch
475
Segment
2-1/8 to 2-1/2 inch
476
Segment
2-1/2 to 3 inch Ring Assortment
482
Segment
3-3/8 to 4 inch
483
Segment
3-7/8 to 4-1/2 inch
484
Segment
4-3/8 to 5 inch
485
Segment
4-7/8 to 5-1/2 inch
486
Segment
5-3/8 to 6 inch
074 Tooling Package
Note: Individual tooling is availabel call 1-800-458-3687 ext 1 to receive
pricing on individual tooling for this equipment