Jet's Step Pulley milling machine is the perfect solution for maintenance shops, repair shops, job shops, schools and light production.
The Jet JTM-1 Mill, 9 x 42 inch Table, 16 Spindle Speeds, 2HP, 3Ph, 230V Only
has a 2 Year warranty
VERTICAL MILLING MACHINES - JTM-1/2

Meehanite casting

Precision bored and honed milling head

Large diameter quill is chromed

High precision Class 7 spindle bearings

Spindle head is internally cooled

Satin chrome finished dials

Heavy-duty splined motor drive

One-piece quill pinion and shaft

Three-stage power downfeed with automatic stop

Heavy-duty spindle brake

Precision hardened and ground ways

Precision ground table

Adjustable gibs throughout

Internal coolant tank built into base for use with coolant system (Coolant pump not included)

Tolerance test sheet included

One-shot lubrication system

Way covers

Draw bar

Tool box with tools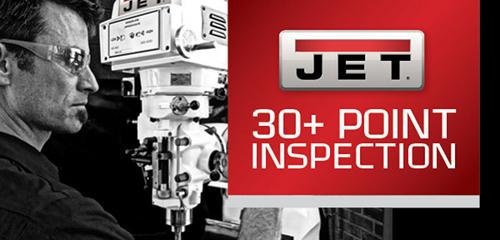 JET METALWORKING'S NEWEST INNOVATION IN PROCESSES AND TECHNOLOGY
You have always counted on JET for Product innovation which we continue to do, but now we are expanding into our processes and technology. With this, we now launch our exciting new program, JET's 30+ Point Machinery Inspection.

JET's 30+ Point Milling and Turning machine process falls under the JET Red Assurance guarantee program. This is the ultimate premium service and quality assurance program offered only by JET, which includes Operational and Visual inspection of every aspect of your machine. It will save many hours of cleaning and getting the machine prepped as it is already done in our Nashville, TN headquarters and no longer on your shop floor. We put it through a complete inspection, and a signed checklist is sent with every machine inspected which will be tracked by serial number and records kept in our Tech Service department.
ALL LARGE INDUSTRIAL MILLS AND LATHES ARE INSPECTED
Operations Checked: All oil levels are checked and filled, all switches, brakes, work lamps and power settings are checked. While under power, all accuracies, gear changes, pumps, spindles and feeds are checked

Visual Inspection: Paint and finish, electrical components and connections, levers and handles

Optional Equipment and Accessories: Installed and tested
ROGRAM BENEFITS:
Builds dealer confidence that his customer will receive a machine that is inspected, cleaned and ready for operation.

Machines are inspected in our Nashville, TN headquarters.

End Users will save hours in preparing machines for use.
Rest assured, JET stands behind all of our metalworking machinery; supporting our dealers, their users and the shops they're used in. You can rely on JET for industry-leading 2 year warranty; USA based customer and tech support and over 40,000 parts in stock. 30+ point inspections are just another way JET Stands Behind Your Work.

Click on a part number below tp be redirected to the price at the bottom of this page
See product descriptions at the bottom of this page for any current specials on select milling machines
JET JTM-1 9 x 42 MILLING MACHINES
690082
JTM-1 Step Pulley Milling Machine 230V 3Ph
JET JTM-1 MILL PACKAGES
690019
JTM-1 Mill With X-Axis Powerfeed
690097
JTM-1 Mill With X and Y-Axis Powerfeeds
JET JTM-1 MILLS WITH ACU-RITE DRO
690244
JTM-1 Mill With ACU-RITE 203 DRO
690168
JTM-1 Mill With ACU-RITE 203 DRO and X-Axis Powerfeed
690161
JTM-1 Mill With ACU-RITE 203 DRO With X and Y-Axis Powerfeeds
JET JTM-1 MILLS WITH NEWALL DP500 DRO
692182
JTM-1 Mill With 3-Axis Newal NMS300 DRO (Knee)
692187
JTM-1 Mill With Newall NMS300 DRO
692188
JTM-1 Mill With Newall NMS300 DRO With X-Axis Powerfeeds
692189
JTM-1 Mill With Newall NMS300 DRO With X & Y-Axis Powerfeeds
692190
JTM-1 Mill With 3-Axis Newall NMS300 DRO (Quill)
692191
JTM-1 Mill With 3-Axis Newall NMS300 DRO (Quill) With X-Axis Powerfeeds
692192
JTM-1 Mill With 3-Axis Newall NMS300 DRO (Quill) With X & Y-Axis Powerfeeds
692196
JTM-1 Mill With 3-Axis Newall NMS300 DRO (Knee)
JET JTM-1 MILLS WITH NEWALL DP700 DRO
691187
JTM-1 Mill With Newall DP700 DRO
691188
JTM-1 Mill With Newall DP700 DRO With X-Axis Powerfeed
691189
JTM-1 Mill With Newall DP700 DRO With X and Y-Axis Powerfeeds
691190
JTM-1 Mill With 3-Axis Newall DP700 DRO (Quill)
691191
JTM-1 Mill With 3-Axis Newall DP700 DRO (Quill) With X-Axis Powerfeed
691192
JTM-1 Mill With 3-Axis Newall DP700 DRO (Quill) With X and Y-Axis Powerfeeds
691196
JTM-1 Mill With 3-Axis Newall DP700 DRO (Knee)
JET TABLE AND KNEE POWERFEEDS FOR MILLING MACHINES
350194
X-Axis Table Powerfeed
350195
Y-Axis Table Powerfeed
350196
Z-Axis Knee Powerfeed
987000004
Powerfeed-2X Installation Charge
987000005
Powerfeed-2Y Installation Charge
987000010
Voltage Change Labor Charge
JET RISER BLOCKS
350096
RB-8-1050, 8 Riser Block
350090
RB-6-P, 6 Riser Block
JET FLOOD COOLANT SYSTEM FOR MILLING MACHINES
A619
Flood Coolant System for Milling Machines
MILLING TOOLING KIT
660220
24-Piece Milling Tool Kit for R-8 Spindle Milling Machines
660100KT
Milling Accessory Kit
MEASURING TOOLS
630400
1-2-3 Block Set in Plastic Case
END MILL SETS
650210
20 Piece Tin-Coated Double End Mill Set
650211
20 Piece Tin-Coated Single End Mill Set
CLAMPING SETS, 52 PIECES, INCLUDING METAL STORAGE TRAY
660012
CK-12, 52-Piece Clamping Kit with Tray for 5/8 T-Slot
660038
CK-38, 52-Piece Clamping Kit with Tray for 1/2 T-Slot
660058
CK-58, 52-Piece Clamping Kit with Tray for 3/4 T-Slot
R-8 COLLET SETS
650132
CS-R8, 6-piece R-8 Collet Set
650133
Premium 6 Piece R-8 Collet Set
MILL CHUCK AND COLLET SET, WITH CARRY CASE
466001
CCS-1, R-8 Collet