Portable Capstan Winch with, Swivel, Fixed Base, or Hitch Mount
The Thern Liberty Series capstan winch with integral swivel base delivers portable strength for lifting, pulling, and tensioning at almost any angle. More importantly, quiet operation enhances team communication for increased productivity. Among other uses, it's perfect for elevator shaft and cell tower construction projects. The enclosed motor housing, powder-coat finish, and corrosion-resistant components ensure dependable operation for many years.
QUICK FACTS
1,000 lb Capacity (450 kg)

Quiet Operation

Extended Duty Cycle

Extremely Portable

Enhanced Safety Features

Increased Productivity

Maintenance-Free

Industry-Leading Warranty
SERIES MODEL
Features:
Premium motor with handle Premium motor offers quiet operation (80 dBA)* enhancing clear communication between operators. UL- Recognized motor. *Thern's 3CP1S-AFS winch has a maximum noise level of 80 dBA, averaging 10 dBA less than the competition when measured at a distance of approximately three feet under similar conditions.

Foot switch control Foot switch-controlled operation enhances productivity and safety. IP65, NEMA 4-rated sealed foot switch allows outdoor use.

Integral rope lock Rope lock prevents unintentional drops to enhance safety. Adjustable rope lock accommodates various line exit angles and operator heights.

Durable swivel frame with integral lock Adjustable rotation in 15° increments to align loads and lock securely with swivel stop. Lightweight, engineered design and steel construction enhances portability. Powder-coated steel finish resists wear and promotes durability.

Integral rope keep Spring-loaded rope keep helps prevent accidental removal of hand line from drum to enhance safety.

Engineered drum design Keeps load line from moving during operation, enhancing productivity. Nickel-plated steel construction for optimum performance and durability.
Click here to view the Electronic Controls options
to Operate Power Winches Remotely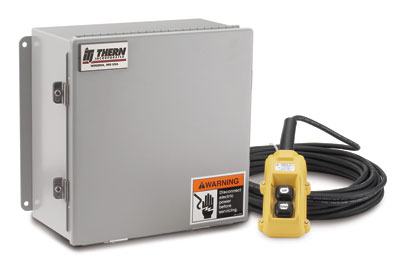 ELECTRONIC CONTROLS

Electronic Controls available for the 4WP2D Power Winches

10L2A1
NEMA 1
10L7E1
NEMA 1
10L2A4
NEMA 4 – watertight
10L7E4
NEMA 4 – watertight
10P1A46
6 ft pendant control
TPL-4WP2T8
Two Part Line Kit