Portable Power for the Professional Cutter

ICS gas operated power packs are a dependable, self-contained source of hydraulic power that offer superior cooling capacity. The functional, ergonomic design makes them easily transportable to any job site
Updated Model P95-M - New pack replaces the previous P95. New pack offers the same compact and portable design, along with superior cooling and are powered with similar Vanguard 18 hourspower engine.
The signifigant differences are:
Power packs are now mechanically governed instead of using an electronic engine control moduale. This design will improve durability in the harsh environments our customers operated in, while reducing longer term repair costs.
P95-M 18 hp (13.5 kW) Powerpack
Affordable hydraulic power with exceptional cooling capability in an easy to carry package. Adjustable for 5 gpm or 8 gpm (20 lpm or 30 lpm) operation.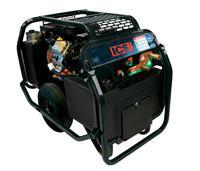 Specifications
Engine
Hydraulic System
8 gpm (30 liters/min) at 2,500 psi (172 bar)
or 5 gpm (20 liters/min) at 2,500 psi (172 bar)

Reservoir: 2.7 gal (11 liters)

Relief valve setting: 2,100-2,300 psi (145-158 bar)
Dimensions
Weight
Click here to download datasheet
When water isnt readily available, this corrosion resistant poly tank provides the solution. Able to hold up to 25 gallons, this tank offers the required pressure and flow that ICS saws require. The diaphragm High-Flo pump provides 1.8 gpm at 60 psi and comes with molded alligator clips for 12v battery hookup. Comes with a whip fitted with a standard hose end, ready for any regular hose you desire.
Features:
Portable

Easy to transport

Fits a regular hose

Battery operated
Specifications:
Capacity: 25 gal

Pump Output: 1.8 GPM / 60 PSI

Power Supply: 12 volt, gator clip hookup

Tank Construction: Corrosion Resistant Poly
Flow Adapter Valve
Enjoy the convenience and efficiency of powering your ICS hydraulic saw from skid steers, backhoes, and other common construction equipment. Available for both 8 gpm and 12 gpm (30 lpm and 45 lpm) saws




Click Here for a Complete Listing of ICS Bars, TwinMax, ProForce & PowerGrit Chains
FORCE4 Diamond Chain Technology

From the company that revolutionized concrete saws comes a revolution in diamond chains: FORCE4. Designed to be the strongest, longest lasting diamond chains ever made, the ProFORCE4 series delivers unrivaled performance in professional cutting applications.

TwinMAX Series Diamond Chains

Designed to be used with the full line of ICS gas powered chain saws (except 633F4), these chains offer the ultimate combination of versatility and affordability. Named for the patented double-bumper design, TwinMax chains feature smooth cutting performance and easy installation.


PRO Series Diamond Chains

Engineered for use by professional sawing and drilling contractors, PRO series diamond chains stand up to the demands of heavy use.






PowerGrit - Never Cut Pipe the Same Way Again

Available in 16"(40cm) for the gas powered 695
Available in 15"(38cm), 20"(50cm) and 25"(63cm)
for the hydraulic powered 880
Cuts Ductile, Cast Iron, PVC, HDPE Pipe and Insituform Pipe Lining