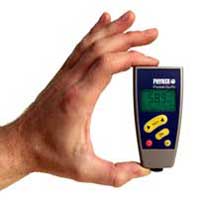 The NEW standard in Coating Thickness Testing!
Features
Smallest Probe in the world! IP52 Waterproof! Infrared RS 232 output!

PTG-2500 Coating Thickness Gage can perform two different methods of calculating Coating Thickness measurement by utilizing the characteristics of both eddy current and magnetic induction.

Testing performance is both non-destructive and extremely accurate.

With this state of the art Coating Thickness gage, you can easily detect the thickness of nonmagnetic Coating on a magnetic substrate (ferrous) or an insulating Coating on a non-magnetic conductive substrate (non-ferrous) without having to change probes or make software adjustments.
Available in Two Versions
BASIC: Standard gauge (no memory/output) Model# PTG-2500B

TOPLINE: Standard gauge with extensive memory function and RS232 output via Infared. Model # PTG-2500
Uses
Manufacturing

General engineering

Commercial inspection

Other areas of Industry
SPECIFICATIONS
Measuring Range
0-1500 m m max. or 0-60 mils
Resolution
0.1m m / 0.01mils or < 2% of measured value
Guaranteed Tolerance:
With works-calibration
After one-point calibration
After two-point calibration
+/- 3m m / 0.12 mils or 3% of value
+/- 1m m / 0.04 mils or 2% of value
/- 1m m / 0.04 mils or 2% of value
Display
Alphanumerical with 4 digits (digit height = 10mm/0.4")
Language Selection
English, German, French
Min. Measuring Area
0.2" x 0.2" (5mm x 5mm)
Min. Radius of Curvature
Convex: 0.12" (3mm)
Concave: 1.2" (30mm)
Min. Substrate Thickness
Ferrous: 20 mils (0.5mm)
Non-ferrous: 2 mils (50 µ m)
Memory
Max of 80 values can be recalled individually
Calibration
Zero Calibration
Foil calibration
Statistics
N, x, s or N, Max, Min over max. 9.999 readings
Limit Values
Adjustable with acoustics
Interface
nfrared, IrDA standard
Surface Temperature of Test Object
302 degrees F
(contact time max is 2 seconds)
Power Source
2 AAA batteries
Dimensions (LxWxH)
4" x 1.9" x 0.96" (99 x 48 x 24mm)
Weight
3oz. (85g)
Sensor
Integrated probe Dimension of contact surface: 0.2" dia. (5mm)
Protection Class
IP52 (dust/waterproof)
There are no further details.
There are no further specifications.
There is no further information.
There are no listed accessories.