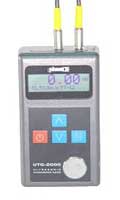 Ultrasonic Wall Thickness Gauge
State of the art, digital Ultrasonic Thickness Gauges are menu driven, multi-functional units offering everything from the basic measurement to extended memory and RS 232 output capabilities.

This dynamic series of gages are designed to measure the Thickness of metallic and non-metallic materials such as aluminum, titanium, plastics, ceramics, glass and any other good Ultrasonic wave conductor as long as it has parallel top and bottom surfaces.

The UTG-2000 series gages will accurately display readings in either inch or millimeter after a simple calibration to a known Thickness or sound velocity.
Additional Information
Model No. UTG-2000: standard unit has measuring capabilities only

Model No. UTG-2020: standard unit incorporates vast memory functions, mini-printer, PC cable, charger, operations man
SPECIFICATIONS

Display type
4-digit LCD
Minimum display unit
.001"/0.01mm
Measuring Range
0.04-8.0" in steel w/standard probe
Display accuracy
0.001" / 0.01mm
Sound velocity range
3280-32805 ft/s (1000-9999m/s)
Operating temperature
32-122 degrees F
Frequency
5MHz
Update range
4Hz
Power supply
1.5v AAA alkaline batteries (2pc)
Battery life
Approx. 250 hours/set
Power consumption
Working current is less than 3V
Dimensions
4-1/4 x 2-3/8 x 1"
Weight
4.7oz
There are no further details.
There are no further specifications.
There is no further information.
There are no listed accessories.