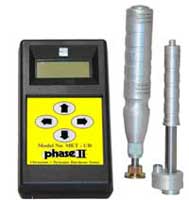 Features
Capable of measuring the surface hardness of a broad variety of metals on flat, round, thin or large surfaces.

These "state-of-the-art" portable hardness testers incorporate "Ultrasonic UCI" technology, which enables the hardness testing of very thin and small workpieces, which otherwise could not be tested accurately using a portable device.

Non-destructive in it's function, these allow for the testing of highly sensitive or finished parts that previously could not be tested in an operational setting.

The non-destructive (ndt) feature of these hardness testers allow the operator to accurately test parts without causing physical or structural damage that would normally lead to disposal or refinish of operators part.

This series of portable hardness testers offers a model that include a dynamic probe for easy, quick hardness testing of parts with a mass greater than 5kg
Functions:

Easy To Read Menu Operation

Large LCD Display w/ Back Light

USB Interface

Automatic Conversions to: Brinell, Rockwell C, Rockwell B, Vickers and Leeb

Automatic Mean Value

Data Archive Capacity

UCI Hardness Testing Method

MET-U1 and MET-UD

A hardness testing method based on the measurement of the frequency shift of a resonating rod caused by the essentially elastic nature of the finite area of contact between the indenter and the test piece during the penetration. Described as a hardness testing practice using a calibrated instrument by pressing a resonating rod with a Vickers style Diamond indentor with a fixed force against the surface of the part to be tested.

Standard Accessories:

Base Instrument

10N (1kgf) Hand-Held Probe - U1 & UD models

Dynamic "D" Leeb Impact Device - UD model only

Calibrated Test Blocks:
Model MET-U1 2pc HRC Test Blocks
Model MET-UD 2pc HRC Test Blocks 1pc Leeb Test Block

USB Ouput Cable

Custom Carry Case

Battery Charger

Operation Manual

LEEB Hardness Testing Method:

MET-UD only

This is a dynamic hardness test method using a calibrated instrument that impacts a spherically shaped carbide ball with a fixed velocity (generated by a spring force) onto a surface of the material under test. The ratio of the rebound velocity to the impact velocity of the impact body is a measure of the hardness of the material under test.
SPECIFICATIONS
Model No.
Data

MET-U1
(w/Ultrasonic Device)

MET-UD
(w/Dynamic Impact Device)

Probe Type

UCI 10N
Utilizes Vickers style Diamond
Indentor

Dynamic Leeb "D"
Utilizes a 3mm Carbide Ball

Tolerance
+/- 3.0% of average from the reference value of the test block with a minimum of 5 tests
+/-6 L (L=Leeb)
Measuring Range:

HRC: 20-67
HRB: 59-99
HB: 75-650
HV: 75-1000

HRC: 20-67
HRB: 13-99
HB: 75-650
HV: 80-980
LD: 200-900

Applicable Test Materials
Steel & cast steel, alloy tool steel, stainless steel, grey cast iron, spheroidal iron, cast aluminum, brass, bronze, wrought copper alloy.
Steel & cast steel, alloy tool steel, stainless steel, grey cast iron, spheroidal iron, cast aluminum.
Minimum Thickness
.004" (Steel)
Approx. 0.472" (Steel)
Battery Type
NiMH (C)
NiMH (C)
Operating Temperature
5-104 ° F
5-104 ° F
Dimensions (Gauge only)
145 x 80 x 40mm
145 x 80 x 40mm
Weight (Gauge only):
8.5oz
8.5oz

TECHNICAL DATA FOR UCI PROBE AND DYNAMIC INDENTOR
Test Device
UCI
Dynamic
Length:
160mm
140mm
Diameter
25mm
25mm
Indentation Depth
30μm
300 μm
Pressure Force
14.7N
11Nm
Transducer Test Life
(Approx)
200,000
50,000
Min Thickness for Testing
(Steel)
1mm
12mm
Min. Radius for Test
5mm
10mm
Max. Surface Roughness
Ra 2.5 μm
Ra 3.2 μm
Memory
100 Tests
100 Tests
Time of Test
4 seconds
2 Seconds
There are no further details.
There are no further specifications.
There is no further information.
There are no listed accessories.