Engine Stand Attachment
The Engine Stand attaches to a Base Stand Assembly to hold virtually any engine out there. The 4 arms are independently adjustable for virtually any bolt hole configurations. Takes advantage of all of the features our our E-Z Spin system. Rotate your work to the easiest angle. Makes painting engines a breeze!
Two Base Stand Assemblies are included in our Auto Rotisserie, but if you do not own an Auto Rotisserie or do not want to break it down in order use one of the other accessories, the Base Stand Assembly is also available separately. Use it with the Engine Stand and Axle Workstation attachments. Please see those product pages for more information.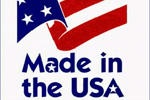 The Auto Dolly products and Specialty Tools are made right here in the USA. That means that we can make our products from the rugged materials necessary, without worrying about how much it will cost to move those materials across an ocean. This allows us to deliver a far more durable product and get it into your hands faster.