The Wheel Storage Rack (adjustable)
The Wheel Storage Rack allows for easy off-floor storage of wheels and tires of any size. Folds back against wall when not in use. Adjusts (via simple chain link selection) to the size of the wheel or tire you want to store. Shown below with 14 inch wheels/rims, 15 inch mounted tires, and 18 inch mounted tires.
Wheel Storage Rack Features and Benefits:
Depth is user-adjustable by chain links

46 inch wide storage area

Mounting holes spaced to fit on your 16-inch-center studs (48 inch apart)

Folds flat against wall when not in use

Frees up precious floor space.

Keep a cleaner and more orderly shop or garage.

Red painted finish
Unit Dimensions:
Width between mounting holes: 48 inch

Storage bar width: 46 inch

Depth: Adjustable with chain link and S hooks (Maximum: 24 inch - easily supports 12-18 inch mounted tires)

Height: 24 inch

Shipping Weight: 20 lbs.

Supports up to: 400 lbs

Shipping box: 4 x 4 x 48 inch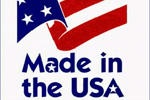 The Auto Dolly products and Specialty Tools are made right here in the USA. That means that we can make our products from the rugged materials necessary, without worrying about how much it will cost to move those materials across an ocean. This allows us to deliver a far more durable product and get it into your hands faster.