Simple and easy-to-use.
PosiSoft Software for Windows is an ideal solution for those who wish to download measurements to a P.C. for printing or archiving.
Simple installation and easy-to-use graphical user interface.

Quick and easy transfer of readings from the gage

Support for Windows 2000 SP3+, XP and Vista.

Multi-language support including English, German, Italian, Spanish and French languages.

Allows entry of notes and annotations

Allows deletion of individual readings or entire batches

Automatic creation of charts and graphs during download

Readings can be saved in user specified delimited text files for easy import into Access, Excel, Lotus and other software programs.

FREE USB cable for PosiTector 6000, 200 , DPM and PosiTest Pull-Off Adhesion Tester

FREE technical support

FREE upgrades (use our support form to receive information on available PosiSoft updates)
Our PosiSoft software along with our PosiTector DPM allows climatic values to be transferred to an FTP (File Transfer Protocol) site. Ideal for viewing climatic conditions from a remote location. Real-Time (Live) Demo
View our PosiSoft FAQ page for additional information and screen shots.
If you require software support, you may contact us using our online support form or by telephone +315-393-4450.
Here are the most common questions received by our Technical Staff along with possible solutions.
Q. –

My notebook computer or desktop PC does not have a RS-232 serial port and only supports USB connections. How can I connect my instrument for downloading?
A. –

USB to Serial Adapter cables provide an ideal solution for PC's supporting only USB connections. This solution is easy to install and is compatible Windows 98, ME, 2000 and XP. These adapters are readily available at most electronic or computer retailers.

Q. –

I want to export reading to MS Excel. Does PosiSoft have an export feature?
A. –
Yes. Readings can be saved in user specified delimited text files for easy import into MS Excel, MS Access, Lotus and other software programs. Export / Import Instructions

Q.

–

I get an error message when trying to download readings from my instrument. What am I doing wrong?

A. –
The most common reason for this is due to not first configuring PosiSoft for your particular instrument. Prior to downloading you must first select "Gage" from the "Configure" menu. Once you have successfully configured your instrument, you should have no problem downloading stored readings to PosiSoft.

Q.

–

Is it possible to delete individual readings from PosiSoft?
A. –
Yes. PosiSoft version 2.9.1 and greater provides the ability to delete individual readings. Simply, right click the reading you wish to delete and select "Delete". The reading will be deleted and your statistics will automatically update to reflect this change.
ScreenShots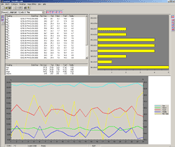 PosiTector DPM
ScreenShots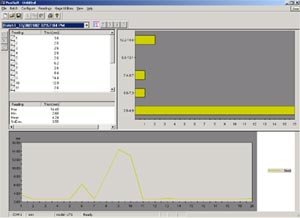 PosiTector UTG