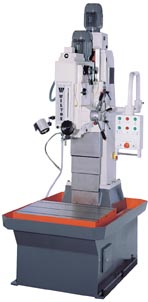 Direct Drive Box Column Drill Presses
Deluxe Features
Husky, heavy-duty drill press provides excellent column stability for extra support and greater drilling accuracy

Oversized box column design minimizes deflection and increases drill rigidity

Push button control panel

Large, heavy-duty cast iron T-slotted fixed table

Automatic vertical transverse of the drill head on box column with square way system

Power feed gear box fitted with an electro-magnetic clutch for power feed engagement and overload protection

Heavy duty quill and spindle with manual quill locking

Tempered, ground spindle with internal taper mounted in precision bearings for maximum accuracy, minimizing deflection, spindle runout within +- .002

Speed and feed selectors are located on one side of the drill head for convenience and ease of operation

Coolant tank and pump integrated into base

Spindle gear box is equipped with steel hardened, ground, shafts and gears

Spindle gear box is internally lubricated in a continuous oil

Automatic tool ejector, work light, hand wheel for fine feed
Specifications
Model
2570
2575
2580
2590
2595
Drilling capacity, mild steel
1 3/4
2 3/8
2 7/8

3

3 3/16

Drilling capacity, cast iron
1 7/8
2 1/2
3

3 3/16

3 3/8

Tapping capacity, mild steel
1 9/16
2
2 3/8

2 3/4

3 3/16

Tapping capacity, cast iron
1 3/4
2 1/8
2 1/2

3

3 5/16

Drills to center
36
40
48

48

48

Morse taper
No. 4
No. 5
No. 5

No. 5

No. 5

Horse power
4 HP
7.5 HP
10 HP

15 HP

20 HP

Speed range
9(82, 120, 180, 240,
354, 528, 678.1026, 1524
12(48, 72, 96, 144, 186, 234, 288, 360, 480, 804,
996, 1278)
12(42, 58, 86, 116, 154, 249, 304, 412,
554, 748, 1098, 1485)
12(42, 58, 86, 116, 154, 249, 304, 412,
554, 748, 1098, 1485)
12(42, 58, 86, 116, 154, 249, 304, 412,
554, 748, 1098, 1485)
Automatic feeds
4(.004, .008, .012,.016)
6(.002, .004, .006,.008, .014, .020)
6(.002, .004, .006,.008, .014, .020)

6(.002, .004, .006,.008, .014, .020)

6(.002, .004, .006,.008, .014, .020)

Spindle travel
9
10
11

11

11

Spindle to table

Min. 9.8", Max. 39.3

Min. 12.5", Max. 45.2
Min. 21.1", Max. 57.9

Min. 21.1", Max. 57.9

Min. 21.1", Max. 57.9

Headstock raising/lowering motor
1.5 HP
1.5 HP
2 HP

2 HP

2 HP

Headstock feed-feet/min
3.6
3.6
3.6

3.6

3.6

Table dimensions
23.6" x 23.6
31.5" x 23.6
40.9" x 23.6

40.9" x 23.6

40.9" x 23.6

Base overall-width/depth
30" x 54 3/4
37 3/4" x 58
47 1/4" x 65 3/8

47 1/4" x 65 3/8

47 1/4" x 65 3/8

Table T-slot size
5/8
5/8
5/8

5/8

5/8

Table load capacity
850 lbs
900 lbs
1000 lbs

1000 lbs

1000 lbs

Center spindle to front of column
18
20
24

24

24

Overall dimensions
107" x 30" x 54 3/4
137" x 47 1/4" x 65 1/2

137" x 47 1/4" x 65 1/2

137" x 47 1/4" x 65 1/2

Hole making capability
medium/
large
Large
Large

Large

Large

Weight
2977 lbs
3307 lbs

4675 lbs

4695 lbs

4705 lbs
ELECTRICAL SPECIFICATIONS
Machine comes standard 220/440v-3 phase, 110v at switch. Please specify voltage at time of order.
NOTE: All Wilton Machines are manufactured to ANSI Specifications and use Electrical Components that are manufactured to NEMA Guidelines. If there are special electrical requirements, other than the Wilton Machinery Standard Electrical Package, at the location of equipment installation due to specific Corporate, City, County, State or other Electrical Regulations, those specifications must be defined to Wilton Machinery prior to acceptance of machine order.



WARRANTY
Wilton offers a two (2) year limited warranty* on any mechanical components, one (1) year limited warranty on any electrical component. Warranty items subject to Wilton inspection and approval.
*(Wilton's 2 year limited warranty is based on one 8-hour work shift or 2080 hours per year. The warranty period is good for 2 years or a total of 4160 hours whichever comes first.)
Note: Warranty does not apply to defects due directly or indirectly to negligence, accidents, misuse, abuse, repairs or alterations or to a lack of reasonable maintenance