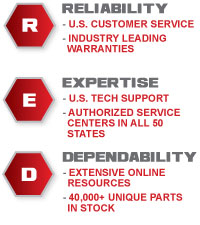 At JET not only do we warranty every product we develop, but we assure that our after sale service and support is number 1. Our customer rated 9 out of 10 Customer Service, Technical Support, 40,000 plus unique parts in stock, and leading warranties guarantee we have the industrys most dependable service and support program.
If a JET tool needs service or repair, one of our 750 Authorized Service Centers located in all 50 states can assist you. In most cases Authorized Service Centers can perform a warranty repair, assist in obtaining replacement parts, perform routine maintenance, and perform a major repair on your JET Tool. For the name and location of an Authorized Service Center in your area call 1 (800) 274-6848 , you can also access all catalogs, promotions, product manuals, product specifications, and product images.
From here forward, look for our JET RED Assurance stamp. When you see this logo you can rest assured that behind every product is decades of reliability, expertise, and dependability.