TP400 Collapsible Carriage
400lbs capacity, 28ft Platform Hoist
For heavier roofing materials, this platform hoist features a 400 lobx lifting capacity with a lighter weight carriage and revised track system. The TP400 carriage has a 30 percent reduction in weight over previous models. The aluminum deck and flap provide longer life and lighter weight. This carriage also features a re-engineered and simplifided cam follower system with less weap parts than other hoists. Rolled goods / plywood brakets come included and pins into carriage.
Dual drum Brakes
Dual band brake syustem for smoother stops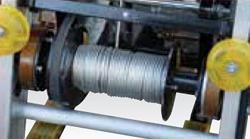 Plywood BraketsBrakets are on each side. When not in use the brakets anre stored flat with the collapsible carriage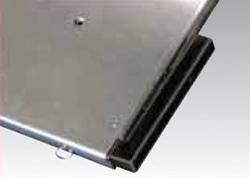 Specifications
400 lbs. Lift Load Limit

4 feet Base Hight

3 - 8 feet Aluminum Track Sections

Dual Brake System

28 ft Packaged Height

Engines: Lifan, Honda and Electric (4.0 HP Lifan Gas Engine Standard)