A LATHE FOR BOWL TURNERS
Designed in conjunction with Keith Adams, a very talented professional Bowl Turner, the Vega 2600 is made specifically for Bowl Turning, with the capacity for very large workpieces. We have paid particular attention to a design that provides great resistance to oscillation (Gross Low Frequency Vibration). All loaded components must also be designed to resist higher frequency vibration when turning heavy and greatly unbalanced blanks. The Vega 2600 has a drive system that provides very low RPMs, very high torque and continuously variable speed. Another very important objective is to provide an outstanding value to our customers.
SPECIFICATIONS
Swing - 26 inch

Between Centers - 6 - 17

inch

Weight - 700 lbs

Spindle Speeds

0 to 2200 rpm

2 Hp AC Inverter Drive Motor - 0 to 2,200 rpm

Headstock Spindle - 1 1/4 - 8, #2 MT

Spindle Height to Floor - 37 to 42

inch

Tailstock - No. 2 MT
SHIPPING DIM'S AND WEIGHT = 48 X 48 X 50 inch / Class 110 / 700 bls
Motor and Electrical
STANDARD EQUIPMENT
ACCESSORIES
CONTROLLING VIBRATION AND OSCILLATION
Excessive vibration and oscillation become a problem when turning large and unbalanced shapes. While low RPMs are essential, having great mass properly placed and to use the best materials is equally critical. The most effective placement of mass is around the spindle center. Adding weight to the Lathe at any location helps, but as its distance from the center of the rotating turning increases, its effectiveness rapidly decreases. Adding weight to the base of a Lathe helps, but mainly to prevent walking or toppling. Materials to a lesser degree also affect vibration, mainly at higher frequencies. Cast Iron is somewhat better than steel in absorbing vibration, but concrete is 20 times better than cast iron. The Headstock on the 2600 is a 64-pound rectangular steel tube filled with 100 pounds of concrete. This combination has the very high strength of steel, and the unusually effective vibration absorbing capacity of concrete, with lots of mass surrounding the spindle.
RIGDITY (LACK OF DEFLECTION)
All components that are subject to rapidly varying load need to be very rigid, as any deflection causes vibration. Steel (being almost twice a stiff as Grey Iron) is frequently the optimum choice. Shape is also a very important consideration in machine design in order to reduce vibration.
CONVENIENCE (ERGONOMETRIC DESIGN)
Turning large bowls can be quite physically demanding. Good Lathe design can reduce these demands considerably. Hollowing out bowls is particularly demanding if it requires leaning over a Lathe Bed. The design of the 2600 yields an exceedingly comfortable machine to use.
PENDANT CONTROL
The Electrical Control is mounted on a pivoting pendant arm, making it convenient for all turning operations.
AC MOTOR(standard)
(1.5 HP, or phase 3)
The AC Drive model has a low and a high speed range. Spindle Speed is continuously variable in both high and low range by means of a hand crank. Speed in a low range is 160 to 425 RPM. High range speed is 800 to 2200 RPM. A reversing drum switch is located on the pendant arm for Forward / Off / Reverse.
DC DRIVE(optional)
(1.5 HP, 220 volt 1 phase)
DC motors can rotate a workpiece at very low RPM's, but the spindle torque will be very low compared to running the motor faster. Consequently we utilize a compound belt reduction, in combination with the DC motor/controller, to provide very high torque at very low speeds. 5/8 inch, B section Vee Belts are used for very effective power transmission.
The DC motor controller (mounted on the pendant) features a rotary speed control dial, spindle reversing switch and motor brake. Speed range is from 0 to 425 in the low range and 0 to 2520 in the high range.
TOOL REST ASSEMBLY
The Tool Rest Base is fabricated from two 1-1/4inch square steel bars for extreme stiffness. It weighs 17# and is surface ground for predictable and smooth motion. Locking of the base is achieved by cam action using the extra long pivoting tee handle. The Tool Rest has a 1-1/4inch shank welded to heavy steel cross bars, yielding great stiffness they will never break (GUARANTEED).
GUARDING
The 2600 Lathe is supplied with heavy Steel Mesh Guard that offers a great deal of protection. It may be removed or swung out of the way for spindle access. WE RECOMMEND USING GUARDS FOR ALL TURNING!
LATHE SPINDLE
The spindle is 1-1/4 inch diameter, supported by three (3) sealed for life ball bearings. Thread size is 1-1/4 inch-8 tpi.
TAILSTOCK
The 2600 Tailstock is designed so that it can be easily removed, when not required, by backing out of the 5/8 inch clamping bolt. No wrench is required. With the Tailstock removed only the short 16inch bed remains between the Turner and the spindle. This gives the same access to the work as in OD turning. The Tailstock Spindle is #2 MT with a total travel of 9inch. The Live Center is adjustable from 6 to 15 inch away from the Headstock Spindle Nose.
LATHE BED
The Lathe Bed is an unusually wide 13 inches that completely supports the Tool Rest Base for most work. It is made from 3/4 inch thick, surface ground steel.
TAILSTOCK REMOVED
Removing the Tailstock allows for excellent accessibility to the Spindle. Much emphasis has been placed on making this machine comfortable and easy to use.
TRANSMISSION
A pair of 7.5 inch diameter pulleys and jackshaft, coupled with adequate horsepower provides the power for this Lathe. Easy access to the belts makes for easy changes from high to low range. A Hand Crank adjusts the speed of AC Motor Lathes and allows shifting from high to low range on both AC and DC models.
NOVA TITAN II CHUCK
The largest chuck in the NOVA chuck range. Ideal for those large lathes with 20 inch/508mm diameter swing and larger. Super Aggressive Holding Power.
The Nova Titan Chuck is a large solid chuck designed for use on large lathes and for larger projects.

This solid 5 inch diameter chuck with its larger jaw capacity is capable of handling much larger projects than the SuperNova 2 Chuck.

The Titan can also take all the Teknatool chuck Accessory jaw sets in the range (although with its larger size, we recommend appropriate larger accessory jaws as the perfect match)

Note: If your lathe is less than 508mm/20 inch diameter swing, please have a look at the SuperNova2 Chuck. If your lathe has less than 360mm/14 inch diameter swing, please have a look at the NOVA G3 Chuck. If your lathe has less than 304mm/12 inch diameter swing, please have a look at the NOVA Precision Midi Chuck.
Features standard on all NOVA chucks:
Quality Materials.

Precision Machining.

Common Accessory Jaw Fixing Profile compatible across all NOVA chucks and accessories.

High Tech Precision Composite Jaw Slides.

Special Woodturning Dovetail Profile on Jaws.

Auto Safety Stop Feature. Jaw slides cant protrude past the chuck body.

Comprehensive Instructions.

Safe Lock Woodworm Screw.

2 Years Warranty
Additional Titan II Features and Benefits
Fully sealed backing plate. Solid Sheet Steel backing plate, prevents build up of wood dust, ensuring minimal maintanence.
Powerful Geared Grip with Tuff Lock Technology. Precise, hardened geared action delivers incredible smooth strength. Solid, vibration free.
Large Chuck Body. The 125mm/5 inch diameter chuck translates into a rugged workhorse that is perfect for large lathes and tackling super solid projects.
Single Handed Operation. Fast and convenient when mounting your project. More time spent turning and less time spent preparing.
Ball nose Allen Key with large, easy grip handle. Fast, positive location, easy and comfortable to use.

Body made from precision machined 1045 High Tensile Steel, with a polished self metal finish to allow for closer tolerances.

Able to take all NOVA accessories jaws.
Product Technical Specification

Recommended for power workholding on lathes from 350mm (14 inch) to 838mm (33 inch) diameter swing.

Up to 838mm/33 inch diameter bowls (using PowerGrip jaws)

Up to 482mm/19 inch length spigots (using PowerGrip jaws)

Full Packaged Weight (Std) 3.67kgs/7.93lbs

Compatibility

Able to take the entire NOVA Jaws range. Only NOVA Chucks give you the same jaw fixing system all chuck models.

This means all accessory jaws in the range fit all the chucks in the range, including older chuck models, giving you the ultimate flexibility. In buying a NOVA chuck, you can be confident that whether you want to move up or down the range, any accessories you have invested in will fit.

Standard Equipment

Chuck Body and Jaw Slides (Comes fully assembled)

PowerGrip Jaws

Safe Lock Woodworm Screw (Extra Long)

Manual and Fastenings

Display/Storage Box

T Bar Allen Head Handle with Soft Plastic Grip

Threads Covered:

1 1/4 inch 8TPI RH - SKU 13055

M33 RH - SKU 13057

At this time we only have the Titan II Chuck in dedicated threaded versions, these Chucks cannot take the standard insert/adaptors and cannot be fitted to any other lathe spindle size.
Easy Rougher - The Next Step in Woodturning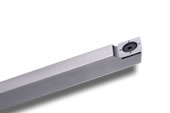 The Easy Rougher is a carbide cutter woodturning tool that addresses fatigue, safety, and efficiency like no other type of tool on the market. Designed to be kept flat on the tool rest and level to the floor, the Easy Rougher will effortlessly hog away massive amounts of material for any woodturning process without the need for sharpening. The tool design provides support directly beneath the cutting edge transferring the cutting pressure downward allowing the lathe to take the pounding that you would normally suffer through when using a conventional bowl gouge for roughing. No more white knuckling a bowl gouge.
Cuts left, right and straight in without changing approach angle

Truly deeper cuts up to 1 inch off the diameter in one pass with the Full Size Rougher.

Requires very little physical strength or exertion

Your feet and hips stay in nearly the same position for the blank roughing process.

Very minimal handle bouncing on irregular shaped blanks

Reduced kick-back or sucking into work piece

Available Chip Deflector keeps most projectiles away from the face and neck

No intimidating cutting angles to learn and remember

No bevels to ride

No fear of a dangerous catch
Easy Finisher - Yet Another Innovation in Woodturning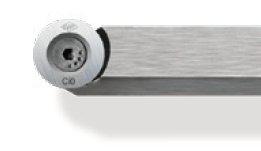 With another step forward in woodturning innovation, Easy Wood Tools now offers you a tool to take up where the Easy Rougher leaves off. The Easy Finisher has a round carbide cutter perfect for doing the inside work on smaller bowls and for larger coves on spindle work. Our carbide inserts are made in the USA and we are pleased to offer you a tool that is 100 percent made in America.

If you own one of our existing Easy Roughers, you well know by now that we deliver even more than we advertise, as hard as is was for you to believe before your first purchase. I assure you the productivity of this tool will exceed your highest expectations. You just can not predict the possibilities or joy this tool will provide you. In testing the prototypes for this new design, I found myself creating forms that were never even on my list to try because the dangers and complications of existing tools were just not worth the trouble. Craig Jackson, Founder

Like the other Easy tools, the Easy Finishers are designed to be used with the tool rest set so that when the tool is held level the top of the cutter is on center. Then just keep it level to the floor and flat on the tool rest for all types of cuts... it does not get any easier than that. There are no complicated approach angles, or bevels to ride. The design of this tool allows the Easy Finisher to effortlessly cut from the center of a bowl out to the rim OR from the rim to the center! All without changing any angles whatsoever. You just stand in one spot and cut coming and going until you get to the shape you want.

The Easy Finisher utilizes the same carbide cutter technology as the Easy Rougher that reduces strain and fatigue, improves productivity, and virtually eliminates sharpening. It comes loaded with one round cutter and when it gets dull, you just rotate the cutter for a fresh cut. Please note: The round cutters are not interchangeable with the carbide cutters on the Easy Rougher tool bars.

When the cutter eventually gets dull, just loosen the retaining screw and rotate cutter about 1/4 of a turn, then re-tighten the screw.

We promise this tool will open up a whole new level of design possibilities for your craft and it will exceed your expectations. If not, return for a complete refund.
Replacement carbide cutter number is engraved right on the tool bar.

Available in four sizes - Mini, Mid-Size, Full-Size and Pro. See purchase page for all products, sizes and accessories.
Easy Rougher - The Next Step in Woodturning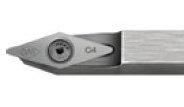 The Easy Detailer tools really pick up where other tools leave off and provide another level of woodturning creativity as the unique diamond cutter shape fits in tight places where the cutters on the other tools will just not fit.

These tools were designed for the primary purpose of doing the small intricate work and cutting final details on your projects such as small coves and beads on both spindle and bowl work. They are also very handy for cutting chuck tenons and making inside reverse angle cuts for inside chucking bowls with dovetail jaws. You may find they work well for hogging your green wood projects too.

The Easy Detailers are engineered to cut going straight in employing just the nose of the tool.

The Easy Detailer tools are engineered with a reduced relief angle to the long cuttings edges making the long edges less aggressive when held in contact with the wood as the nose of the tool is cutting. In use, the long edge is intended to perform as a "control surface" and serve to be in contact with the wood just behind the cut; much like a bevel is being rubbed.

For safety reasons, avoid plunging the tool so deep into the work at once to the depth you would have both sides of the cutter in contact with the wood too greatly at the same time. This could cause too much force at once and lead to binding of the tool in the groove.

Each diamond-shaped Easy Detailer cutter is engineered to fit all size Detailer tools in our current product line. When the cutter eventually dulls, just loosen the retaining screw and rotate cutter, then re-tighten the screw.
Replacement carbide cutter number is engraved right on the tool bar.
Available in four sizes - see purchase page for all products, sizes and accessories.
| PART NUMBER | DESCRIPTION |
| --- | --- |
| 2200 | MID-SIZE EASY ROUGHER |
| 3200 | PRO EASY ROUGHER |
| 6300 | MID-SIZE EASY FINISHER |
| 3400 | PRO EASY FINISHER |
| 7300 | MID-SIZE EASY DETAILER |
| 3700 | PRO EASY DETAILER |