The W&H Molder's low cost and its capacity to produce high quality moldings is an unbearable combination. The W&H provides a safer alternative to a shaper and makes most profiles in a single pass.
The Original Molder is capable of producing straight and roundtop moldings as is, add the elliptical jig for all your elliptical molding needs! All molders come equipped with a multi-pass system and use a two knife self-aliging system making set up quick and easy!
Applications
Our customers have revealed to us the machines range of versatility. From the trimming of a multimillion dollar home, to the making of game calls, to picture frames, to custom redwood planters. The variety of tasks it is capable of seems inexhaustible.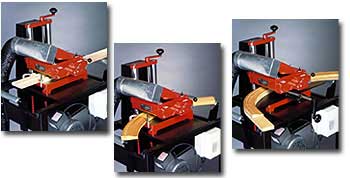 Warranty
The W&H has been a proven design since 1926. it will mold and plane with great precision. Your W&H is warranted for 7 years. in addition, as long as you own it, competent help with its care and operation is as close as your phone.