Stock Number: 710116K
The all-new JWBS-14DXPRO 14 inch Deluxe Bandsaw from JET (shown here with optional fence) has been fully redesigned to meet the needs of today's most demanding woodworkers. Gone are the days of adding a riser block; this 14 inch bandsaw comes with a massive cast iron frame for increased power that makes it ready to meet all resaw expectations head-on. Couple this incredible feature with a new high tension spring design and many more amazing features, and you have a bandsaw that will last for years to come. Put a new JET 14 inch Bandsaw in your shop and you'll know that JET tools are Built Better to Build Better.
JET Bandsaws and Accessories
710116K
JWBS-14DXPRO 14 inch Deluxe Bandsaw, 1.25HP 1PH 115/230V
714101
Woodworking Bandsaw Fence, Fits 15 x 15 Tables
708716
Miter Gauge for 14 inch Bandsaws
708127
Blade Bearing Guides, Carter-Style for 14 inch Bandsaws
708118
Universal Mobile Base
100025A

Replacement Wheel Tire for the JET JWBS-14DXPRO WoodWorking Bandsaw ** Add $15.00 to Shipping for Expidated Ship[ping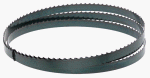 Click here for Bandsaw Blades - We have been manufacturing Since 1926!