CWS-200
The Best of Both Worlds

The CWS-200 Chain Wall Saw combines ICS Diamond Chain Technology (DCT™) with a mechanized, track-mounted, Hydraulic powered design for Professional Sawing & Drilling Contractors, allowing deep cutting without overcuts and less overall effort than other methods.
The CWS-200 is compact and lightweight (only 75 lbs), and provides a one-tool approach to completing a full opening with square corners.

The ability to mount the system to industry standard 360 track, combined with the capabilities of a chainsaw offers the advantages of increased cutting speed, increased chain life, improved ergonomics and significantly reduced operator effort.

Features

Mounts to 360 industry standard track
Specialized sandwich segment chain
Jet-Fit® Guidebar

Benefits

Confined spaces

Deep corner cuts

Operator safety

Improved time to complete job

No blade changes in deep cuts

Easier/cleaner core removal

Accuracy of cut vs. hand-held

Less operator effort

Chains lighter than blades

Easier mobility on & off the jobsite

Simplified set-up and attachment

CWS-200 PRODUCT SPECIFICATIONS

BASE MACHINE W/OUT BAR, CHAIN, & GUARD
75 lbs (34 kg)
12" GUARD
9 lbs (4 kg)
18" GUARD
11 lbs (5 kg)
HYDRAULIC SUPPLY
25 gpm (95 lpm) @ 2,500 psi (172.5 bar)
TORQUE
284 in-lbs (32 Nm)
HORSEPOWER
36.5 hp (27.2 kW)
WATER SUPPLY
Minimum 20 psi (1.5 bar)
OPERATING SPEED
8,100 rpm (avg. free running)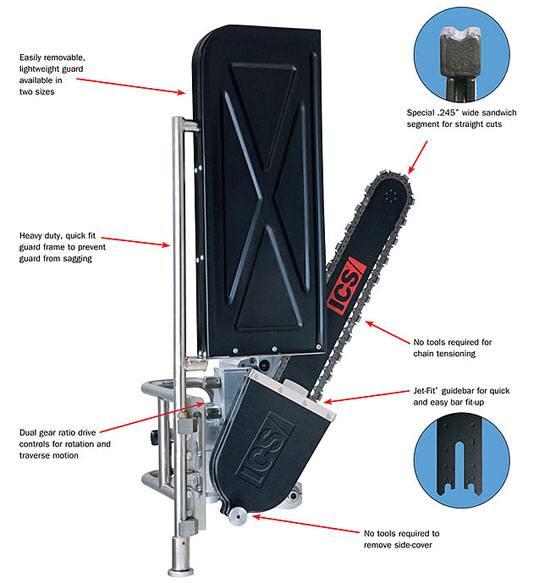 There are no further details.
There are no further specifications.
There is no further information.
There are no listed accessories.