Model CC 9000 Concrete Cutting Bandsaw for Autoclaved Aerated Concrete (AAC)
Roll-In Saw, with over 67 years of saw manufacturing experience, introduces the CC 9000 Band Saw. This concrete cutting bandsaw was designed for the Autoclaved Aerated Concrete industry. This heavy duty band saw is robust enough to take the punishment of the construction job site and still cut straight and accurate day after day.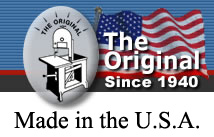 Featuring a 2 hp direct drive motor/gearbox, the CC 9000 cuts easily into cellular concrete (AAC). The moving table will travel 25 inches into the AAC block and can cut 25.5 inches under the guides. Standard removable handles can be added to the saw for this unique "Wheelbarrow" feature to make movement on the job site easy and convenient.
ROLL-IN SAW CC9000
Bandsaw for
Autoclaved Aerated Concrete (AAC)
Replacement Parts List
Effective January 1, 2011
Please Give Machine Serial Number With Order
Minimum Charge $20.00 Handling Charge $5.00
Call 216-459-9001 for Parts
| PART NO. | DESCRIPTION |
| --- | --- |
| 2A08U | UPPER WHEEL- complete with axle, bearings, snap rings and stud |
| 208-L | LOWER WHEEL |
| 167 | UPPER WHEEL BEARING - (2 required per wheel) ea. |
| 282 | UPPER WHEEL AXLE |
| 951 | GEARBOX - complete |
| 2A13 | GUIDE ASSEMBLY - complete upper and lower, includes 2 housings, 4 guide blocks, 2 bearings |
| 221 | GUIDE BEARINGS - (2 required per saw) ea. |
| 261 | GUIDE BLOCKS - (4 required per saw) ea. |
| 931 | LONG BLADE GUARD |
| 941 | SHORT BLADE GUARD |
| 950 | MOTOR, 2HP, 60 Cycle, single phase, 110V/220V |
| 952 | MAGNETIC STARTER 1PH, 110V |
| 943 | BLADE, 1" x 3T x 13' 9" (carbide tip) |
| 947 | RUBBER WHEELS, 8" O.D. - (2 required per saw) ea. |
| 954 | ALUMINUM RULER - right of table slot (1" to 13") |
| 955 | ALUMINUM RULER - left of table slot (13" to 1") |