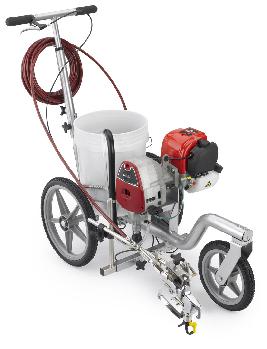 Why Titan Speeflo PowrLiner?
Professional contractors, property managers and maintenance personnel aren't interested in complicated machines: they want to get the job done quickly and done right. That is why serious contractors, maintenance managers and athletic organizations rely on Titan because only Titan offers them a full range of versatile, dependable line stripers for every application, from municipal parking lots and athletic fields to airport runways and football stadiums.
Titan Speeflo PowrLiners are built for dependable, precision performance,delivering crisp, clean lines that no conventional air-spray or aerosol system can accomplish. Our one-gun and two-gun sprayers have an output range from .33 to 2.35 GPM and are capable of striping 106 to 750 linear feet/minute, up to 60% greater than competitive line stripers.
ADVANCED PERFORMANCE
TITAN line stripers are designed BY contractors FOR contractors
Our stripers are built for hard work and long life
The latest engineering technology ensures ease of use and dependability
Our stripers meet and exceed the expectations of contractors who want to do the job right the FIRST time.
TOTAL RELIABILITY
Proven technology - you finish every job quickly and profitably
Superior design and construction maximizes the service life of your line striper
Complete diversity of equipment - we have a striper for every application
Half a century of getting the job done right -TITAN is the name you trust
UNSURPASSED SERVICE
Dependable, reliable network of authorized sales and service distributors
The best customer service in the industry to help you select and maintain your line striper
Professional application and service representatives ready to assist you with recommendations and technical support