The W&H Model 206 with vari-feed and multipass combination provides the operator much more versatility while increasing capacity. In addition, the new guide system makes the machine more user friendly for our customers. Like the original model, the 206 is capable of producing straight, round top moldings as is, add the elliptical jig for all your elliptical molding needs!
Variable Feed Motor

Built in Multi-Pass System

GS1 Guide System

Industrial Strength 2 HP Motor

Deluxe Variable Feed Control w/Magnetic Dropout Switch and Cords

Steel Welded Stand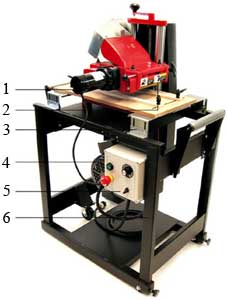 Applications
Our customers have revealed to us the machines range of versatility. From the trimming of a multimillion dollar home, to the making of game calls, to picture frames, to custom redwood planters. The variety of tasks it is capable of seems inexhaustible.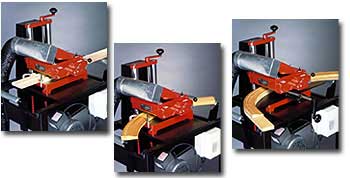 Specifications:

Package Includes:

2 HP Motor (Mfg warranty of motor)
7000 RPM Arbor
Adjustable Feed Rate 1-19
FPM
Height Above Final Cut: 3/16"
Max Profile Depths:3/4"
Max profile width: 6 3/4"
Planes 7" wide

Minimum Stock Length: 9"
Minimum Stock Thickness: 1/4"
Maximum Stock Thickness: 8"
Working Height: 31"
Overall Height: 45"
Overall Width: 23"
Overall Length: 33"
Pkg. Weight: Appox 242lbs

Molder
Belt & Pulley
Stand
Dust Hood
GS1 Guide System

2 HP Motor
Variable Feed Motor
Deluxe Variable
Feed Switch w/Cords
Table Guides
Warranty
The W&H has been a proven design since 1926. it will mold and plane with great precision. Your W&H is warranted for 7 years. in addition, as long as you own it, competent help with its care and operation is as close as your phone.