814PRO




Big Performance - Small Package
814PRO
Big Performance in a Small Package

It may be small, but with as much power as its big brother the 853PRO, the 814PRO is ready for the big jobs. Lighter than other hydraulic saws with the ability to cut perfectly square openings as small as 3 1/2 inches (9 cm), the 814PRO is a natural for utility work and other applications where a mix of portability and power are required.
ICS Professional 13" Concrete Cutting Diamond Saw & Accessories
71675

814PRO-13 Package (8gpm, w/13" guidebar & Twinpro-25 Diamond Chain)

74042
13" Guidebar (fits 814 PRO)

74719
TwinPRO-25 - 13" Diamond Chain


599653
P95-M Multiflow Hydraulic Powerpack (Auto Throttle, Electric Start, 5 or 8 gpm)

Datasheet (pdf)
599654

P110-M Multiflow Hydraulic Powerpack (23HP; 8, 10 or 12 gpm)

Datasheet (pdf)
573285

Portable Water Tank - PDX

73862
TSS-15 Hi-Lift Performance Vacuum (Inc: 15' Hose)

Datasheet (pdf)
71285
TSS-55 (fits standard drum w/ 15' hose)

Datasheet (pdf)
70350

Flow Adapter Valve (8 gpm)

71287

Flow Adapter Valve (12 gpm)

70466
25' Hydraulic Hose
Portable Power for the Professional Cutter

ICS gas operated power packs are a dependable, self-contained source of hydraulic power that offer superior cooling capacity. The functional, ergonomic design makes them easily transportable to any job site
Updated Models P95-M and P110-M - These new packs replace the previous P95 and P110. These new packs offer the same compact and portable design, along with superior cooling and are powered with similar Vanguard 18 and 23 hourspower engines.
The signifigant differences are:
Both power packs are now mechanically governed instead of using an electronic engine control moduale. This design will improve durability in the harsh environments our customers operated in, while reducing longer term repair costs.

The P110-M model now has three avaliable flow rates 8gmp, 10 gpm, and 12 gpm. The addition of the 10 gpm flow rate will increase the versatility of these packs for use with several other tools on the market.
P95-M 18 hp (13.5 kW) Powerpack
Affordable hydraulic power with exceptional cooling capability in an easy to carry package. Adjustable for 5 gpm or 8 gpm (20 lpm or 30 lpm) operation.
P110-M 23 HP (17 kW) POWERPACK
Step up to the power of the newest addition to the ICS line of reliable powerpacks. Adjustable to 8 gpm , 10 gpm or 12 gpm (30 lpm or 45 lpm) operation.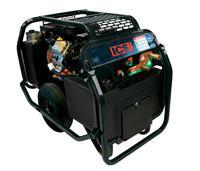 Specifications
Engine
Hydraulic System
8 gpm (30 liters/min) at 2,500 psi (172 bar)
or 5 gpm (20 liters/min) at 2,500 psi (172 bar)

Reservoir: 2.7 gal (11 liters)

Relief valve setting: 2,100-2,300 psi (145-158 bar)
Dimensions
Weight
Flow Adapter Valve
Enjoy the convenience and efficiency of powering your
ICS hydraulic saw from skid steers, backhoes, and other common construction equipment. Available for both 8 gpm and 12 gpm (30 lpm and 45 lpm) saws




Total Slurry Solutions (TSS™)
Hi-Lift Performance Vacuum Systems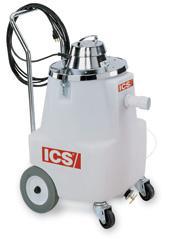 The Total Slurry Solutions (TSS) Hi-Lift Performance vacuum systems provide an easy way to contain and dispose of the slurry produced when wet-sawing or drilling in concrete, masonry or stone materials.
TSS-15
TSS 15/55
Hi-Lift, 105 inches of water-lift, 112 cfm

2 hp bypass motor

110 v/60 Hz

Float assembly with auto shut off
Click here to download datasheet
When water isnt readily available, this corrosion resistant poly tank provides the solution. Able to hold up to 25 gallons, this tank offers the required pressure and flow that ICS saws require. The diaphragm High-Flo pump provides 1.8 gpm at 60 psi and comes with molded alligator clips for 12v battery hookup. Comes with a whip fitted with a standard hose end, ready for any regular hose you desire.
Features:
Portable

Easy to transport

Fits a regular hose

Battery operated
Specifications:
Capacity: 25 gal

Pump Output: 1.8 GPM / 60 PSI

Power Supply: 12 volt, gator clip hookup

Tank Construction: Corrosion Resistant Poly