814PRO




Big Performance - Small Package
814PRO
Big Performance in a Small Package

It may be small, but with as much power as its big brother the 853PRO, the 814PRO is ready for the big jobs. Lighter than other hydraulic saws with the ability to cut perfectly square openings as small as 3 1/2 inches (9 cm), the 814PRO is a natural for utility work and other applications where a mix of portability and power are required.
ICS Professional 13" Concrete Cutting Diamond Saw & Accessories
71675

814PRO-13 Package (8gpm, w/13" guidebar & Twinpro-25 Diamond Chain)

74042
13" Guidebar (fits 814 PRO)

74719
TwinPRO-25 - 13" Diamond Chain


550888
P95 Multiflow Hydraulic Powerpack (Auto Throttle, Electric Start, 5 or 8 gpm)

Datasheet (pdf)
555090
P110 Multiflow Hydraulic Powerpack (23HP; 8 or 12 gpm)

Datasheet (pdf)
551494

Portable Water Tank - PDX

73862
TSS-15 Hi-Lift Performance Vacuum (Inc: 15' Hose)

Datasheet (pdf)
71285
TSS-55 (fits standard drum w/ 15' hose)

Datasheet (pdf)
70350

Flow Adapter Valve (8 gpm)

71287

Flow Adapter Valve (12 gpm)

70466
25' Hydraulic Hose
Flow Adapter Valve
Enjoy the convenience and efficiency of powering your
ICS hydraulic saw from skid steers, backhoes, and other common construction equipment. Available for both 8 gpm and 12 gpm (30 lpm and 45 lpm) saws




Total Slurry Solutions (TSS™)
Hi-Lift Performance Vacuum Systems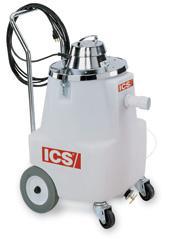 The Total Slurry Solutions (TSS) Hi-Lift Performance vacuum systems provide an easy way to contain and dispose of the slurry produced when wet-sawing or drilling in concrete, masonry or stone materials.
TSS-15
TSS 15/55
Hi-Lift, 105 inches of water-lift, 112 cfm

2 hp bypass motor

110 v/60 Hz

Float assembly with auto shut off
ICS Part Number: 551494, Portable Water Tank with Pump. When water isn't readily available, this corrosion resistant poly tank provides the solution. Able to hold up to 25 gallons, this tank offers the required pressure and flow that ICS saws require. The diaphragm High-Flo pump provides 1 gpm at 35 psi and comes with molded alligator clips for 12v battery hookup. Comes with a whip fitted with a standard hose end, ready for any regular hose you desire.
Specifications:
Capacity: 25 gal

Pump Output: 1 GPM / 35 PSI

Power Supply: 12 volt, gator clip connection

Tank Construction: Corrosion Resistant Poly