Series WC67K-1200 Multi Machine Hydraulic Press Brake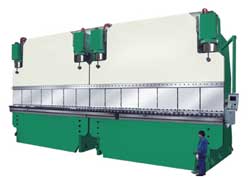 Performance
Equipped with controller with automatic test and self-diagnosis.

Programming a product simply consists of introducing the characteristics of the sheet to be bent, the dimensions of the product and the tooling & die.

The optimizing software can search for the best bending cycle.

The CNC system permits automatic programming bending forces, position and retraction of back gauge, top dead point and speed changing point of the ram, clamping point of plate, ram penetrating depth, retaining of pressure time and etc.

Adopting reliable electro-hydraulic proportional servo synchronization. Can Support eccentric load.

Ram Stroke and back gauge are controlled by controller

Back gauge is adopted ball-screw and rolling guide way, the repeat positioning precision of X axis is ± 0.1 mm

The stroke of the ram is controlled by servo valve.

Repeat precision of Y1 & Y2 axes is ± 0.01 mm and parallelism is ± 0.01mm

Imports are included linear transducer, pressure proportional relief valve and servo motor

Whole machine is guarded with safety interlocker that is set in the electric box by automatic cutting off main power when the box's door is opened.

Protecting barrier with safety interlocker is mounted on the back of the machine

Travel limit protection and foot pedestal mounted emergency off switch.

Models available in variety of tonnage from 40 tons up to 1000 tons and table length from 2000 mm to 8000mm

For Specifications below 250 tons refer to WC67Y Series.
Options

Sectional tooling with different lengths may store forming a certain length to bend the closed frame workpiece.

Automatic crowned deflection compensation

Front pneumatic sheet support

Two -hand control device

Photo-electricity protection (Infra-red light sensor to monitor load area)

SPECIFICATIONS
Model Number
WE67K-1200/7000
Normal Pressure (psi)
2697710(12000kN)
Length of Table (in)
276 (7000mm)
Distance Between Housings (in)
221 (5600)
Throat Depth (in)
20(500mm)
Stroke (in) /Strokes (/min)
16 (400mm)/< 1.5
Open Height (in)
32 (800mm)
Main Motor (Hp)
100 (75kW)
Weight (lbs)
348330 (158000kg)
Overall Dimensions (in)
284 x 181 x 287 (7200mm x 4590mm x 7300mm)
There are no further details.
There are no further specifications.
There is no further information.
There are no listed accessories.