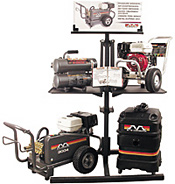 Product Display Rack
Compact display rack solves your limited show floor space issues.
AW-9300-0013
- Easy to assemble - no tools required
- Requires only 15 square foot of floor space
- Constructed of powder coated metal square tubing
- Dim. 62 in. H x 60 in. W x 36 in. D
- Two shelves, header card, and 3-ring product display shelf
There are no further details.
There are no further specifications.
There is no further information.
There are no listed accessories.