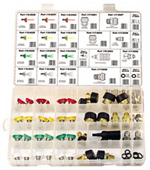 Replacement Parts Kit
The perfect pressure washer replacement parts kit.
- Secure case locking system to keep lid attached and parts secure
- Diagram card includes Mi-T-M part numbers for quick reference
- Lind hinges to reveal kit components and location
- Storage compartments with adjustable plastic separators, keeps all parts organized for easy access
- Durable plastic case is made of heavy plastic.
There are no further details.
There are no further specifications.
There is no further information.
There are no listed accessories.