Grinding Stones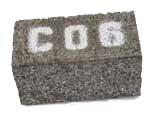 Usually comprised of silicon carbide molded and baked (vitrified) with a clay binder. As the binder wears with use, the sharp edges of the silicon carbide are exposed, further promoting as aggressive grinding action.
Stone service life is proportional to slab material composition, the resulting applied force (machine weight) and slab hardness. Coarse grit stones remove material faster with corresponding shorter service life. Vitrified stones are usually more productive than resin bond types and exhibit less tendency to load up and clog.
Stones are available from super coarse C06 to the very fine polishing types C120 and C180 used to grind terrazzo and marble floor surfaces.
Scrape-R-Tach® Floor Coatings Removal System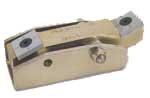 The SCRAPE-R-TACH™ floor coatings removal system mounts quickly and easily to popular models of General and EDCO surgace grinders.
Twelve replaceable inserts efficiently remove a wide variety of urethanes, epoxies, paints, and many other encrusted formations with unequaled ease. Inserts are constructed from a construction grade of tungsten carbide that resist damage and quickly rotate to provide eight sharp scraping edges for maximum service life.
Lord™ elastomeric mounts allow the inserts to closely follow minor variances in floor contours to achieve maximum material removal. The special rubber material also minimizes the effects of damaging shock loads to the grinder when anchor heads and other floor obstructions are encountered. The SCRAPE-R-TACH™ floor coatings removal system. It can be the practical solution to many of your floor preparation needs.
Clean Sweep® Rotary Brush

Silicon carbide impregnated brush is used to clean concrete and tiles, remove rubber marks, chemical stains and discolorations. Other pads can also be used for cleaning terrazzo, scrubbing or buffing all types of tile, as well as general cleaning and polishing applications.
DIAM-A-TACH® Diamond Segment Grinding System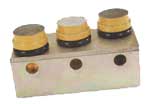 The DIAM-A-TACH™ floor coatings removal system mounts quickly and easily to popular models of General and EDCO surface grinders.
A diamond segment system is an ideal solution for many demanding surface grinding applications, including small concrete irregularities, removing debris or rubber tire build-ups from industrial floors, and a wide range of thin film coatings. The anti-clogging characteristics of diamond segments make them ideal for removing thin layers of adhesives, sealers, mastics, grouts, and floor coating materials. Segments can be operated both wet or dry.
The unique offset mounting configuration promotes more uniform wear patterns for the segments, with a corresponding increase in service life over other configurations. The circular shape minimizes the damage potential when direct contact with a surface obstruction is made. Individual segments can be replaced in a matter of a few minutes with simple hand tools.
Scarifiers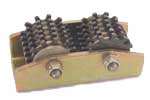 Heat treated, high carbon flails are mounted in reusable steel frames and used to break up hard surface deposits including: varnish, paint, epoxy, fiberglass and grout. Weight is usually added to the grinder to provide additional down force. When used on concrete surfaces, the scarifiers will chip the concrete from around the aggregate. The resulting profile will usually require grinding with stones to achieve the required finish.
Wire Brush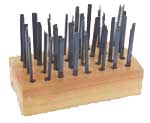 Used to break up soft to medium deposits from floor surfaces including: grease, dirt, rubber carpet backing, and industrial residues. Wire brushes can be used to produce exposed aggregate slabs. The brushes remove the slow setting concrete without disturbing the aggregate.
CARB-A-TACH® Tungsten Carbide Grinding System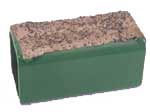 Tungsten carbide impregnated wear surface dramatically increases material removal rates and corresponding service life over grinding stones. Ideal for large concrete removal applications.