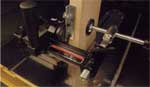 TENONING JIG
Fits left and right tilt saws with 3/8" x 3/4" miter guage groove. The jig holds your board on end to simplify cutting tenons, and has fully adjustable stops that help secure stock when cutting angled mortises. Comes with a T-slot miter guage bar with removable T for others.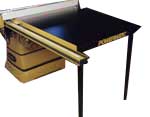 EXTENSION TABLES & LEG

This wood table bolts to the fence rails, and extends your table saw?s capacity. It?s surfaced with Duramine?, a melamine substance that offers a smooth surface on which to slide workpieces, while enduring rugged, long-term use.
Duramineâ"¢ surface allows smooth workpiece travel, while offering durability

Expands the table saw?s capacity, especially useful for panel cutting

Bolts securely to the fence rails
EXTENSION TABLES AND LEGS
Model 64A 27" x 17" Extension Table
6827036
PM2000 30-1/2" x 24" Extension Table
6827042
PM2000 30-1/2" x 36" Extension Table
6827040
PM2000 30-1/2" x 36" Extension Table for Rout-R-Lift®
6827041
PM2000 30-1/2" x 24" Extension Table for Rout-R-Lift®
6827043
Extension Table Legs (Set of 2)
6441000Z
Workbench Table
6827045B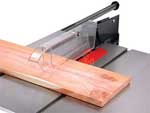 Table Inserts / DADO Inserts / Riving Knives
POWERMATIC 64A CONTRACTOR

6290695

Insert, Dado for 64A
POWERMATIC PM2000 10" TABLESAWS

1791786

Insert, Zero-Clearance for PM2000

1791790

Insert, Table for PM2000

1791787

Riving Knife, Low Profile for PM2000

1791791

Riving Knife, Thin Kerf 0.079", for PM2000

1791792

Riving Knife, Thin Kerf Low Profile 0.079", for PM2000
POWERMATIC 14" TABLESAWS

1791081

Insert, Dado for PM3000